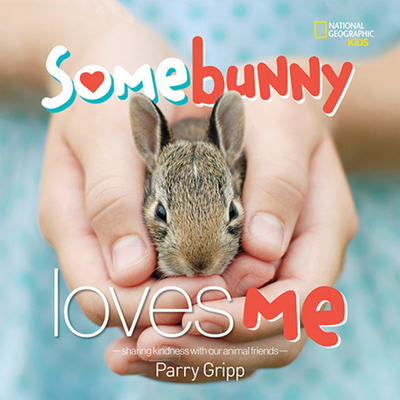 Somebunny Loves Me (Hardcover)
National Geographic Children's Books, 9781426329753, 32pp.
Publication Date: December 26, 2017
Other Editions of This Title:
Library Binding (12/26/2017)
* Individual store prices may vary.
Description
This adorable new title from Emmy Award-winning singer-songwriter (and animal lover) Parry Gripp shows us the magical world of furry friendship and teaches young readers to be kind to animals of all shapes and sizes.

Through adorable, uplifting photographs, and sweet, silly text, kids will learn not only how to interact with animals, but also just what makes you a good friend for your fuzzy, feathered, or scaly new bud. This fun book will inspire young animal lovers to understand their perfect new pal, giving kids lessons on being gentle with pets, making sure to care and love them, how to be patient, and more. Lyrical text illustrates the fun and companionship that dogs, cats, lizards, fish, rabbits, and all sorts of animal friends can offer. Parents and families considering or who've just gotten a new pet will have fun sharing and learning all about animals together. Plus, turn each page and sing along with Parry with an original song and music video!
About the Author
PARRY GRIPP is an Emmy Award-winning singer-songwriter and lead singer and guitarist of the band Nerf Herder. An animal lover, he also writes songs for StoryBots (JibJab's kids app) and Disney shows like The 7D and Phineas and Ferb. His popular YouTube channel, which averages 2.3 million views each month, is a hit with kids, and is featured in YouTube's Kids app. Gripp also participates in the Make Your Pet a Rock Star contest with National Geographic Kids magazine, turning winning pet video submissions into songs.
Praise For Somebunny Loves Me…
"If your little ones are still cozying up for story time, they'll love Some Bunny Loves Me, a book for beginning readers filled with cute and uplifting photos of animal friendship, helping kids understand and interact with their pals in the animal kingdom. These adorable photos of animal friendships will warm your hearts." -- Reader's Digest

"This book is packed with pictures of cute animals and tales that teach kids about animal friendship and kindness. Kids can also watch and sing along to a music video on the National Geographic site."
-- U.S. & Worldwide News

.