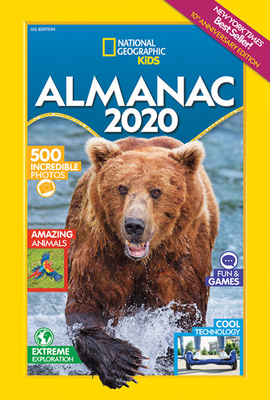 National Geographic Kids Almanac 2020 (National Geographic Almanacs) (Paperback)
National Geographic Children's Books, 9781426332814, 352pp.
Publication Date: May 7, 2019
Other Editions of This Title:
Hardcover (5/7/2019)
Hardcover (5/8/2018)
Prebound (5/22/2012)
Hardcover (5/10/2016)
Paperback (5/9/2017)
Paperback (5/12/2015)
Hardcover (5/12/2015)
Paperback (5/14/2013)
Hardcover (5/14/2013)
Paperback (5/24/2011)
Paperback (5/22/2012)
Hardcover (5/24/2011)
Paperback (5/8/2018)
Paperback (5/10/2016)
Prebound (5/12/2015)
Hardcover (5/9/2017)
Hardcover (5/22/2012)
Prebound (5/9/2017)
* Individual store prices may vary.
Description
It's the 10th anniversary of the world's best-selling almanac for kids! This year the Almanac features all-new content, interviews with explorers in each chapter, a special look at what was going on in the world when the first National Geographic Kids Almanac came out 10 years ago, plus the results of the 2019 Almanac Challenge and a new Challenge for kids who want to get involved with helping our planet.

Kids can have fun keeping up with our quickly changing world with the New York Times best-selling almanac, packed with incredible photos, tons of fun facts, crafts, activities, and fascinating features about animals, science, nature, technology, conservation, and more. There's a whole chapter full of fun and games, including activities, jokes, and comics. Practical reference material, including fast facts and maps of every country, has been fully updated. Homework help on key topics is sprinkled throughout the book.
About the Author
National Geographic Kids inspires young adventurers to explore the world through award-winning magazines, books, apps, games, toys, videos, events, and a website, and is the only kids brand with a world-class scientific organization at its core. This book and series is created by National Geographic contributors, including researchers, photographers, content experts, and educational specialists.