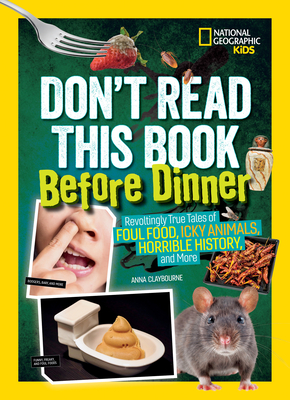 Don't Read This Book Before Dinner (Library Binding)
Revoltingly true tales of foul food, icky animals, horrible history, and more
National Geographic Children's Books, 9781426334528, 144pp.
Publication Date: July 30, 2019
Other Editions of This Title:
Paperback (7/30/2019)
* Individual store prices may vary.
Description
If you love to be grossed out, grab a seat at the table to revel in some of the most repulsive and downright disgusting true stories from around the globe.

From wretched rodents and beastly bugs to putrid plants and muck-filled moats, step right in to find out more about the icky, sticky world around you. Gloriously gross stories of decaying delicacies, foul fashion, horrible history, awful animals, and more are paired with eye-popping pictures, fun facts, and hilarious quizzes in this fun book. Topics go way beyond food to include art, plants, animals, fashion, pop culture, medicine, the human body, and beyond. It's a hot mess to digest, but it's sure to leave kids disgusted and delighted. Read if you dare, but don't say we didn't warn you! Sometimes you CAN judge a book by its cover!
About the Author
ANNA CLAYBOURNE is the author of numerous books on the natural world for young readers, including Don't Read This Book Before Bed, the popular 100 series (100 Scariest Things on the Planet, 100 Most Awesome Things on the Planet, 100 Most Dangerous Things on the Planet, etc.); the Usborne Internet-Linked Encyclopedia of Planet Earth; Cheetah: Natural World Series; the Survival Skills Handbook; and many more. Claybourne started her career as a trainee staff writer and later became a self-employed freelance writer and editor. She writes on almost any subject but specializes in science and nature, and has written many children's books on wild animals (especially predators), volcanoes, earthquakes, and other natural disasters.