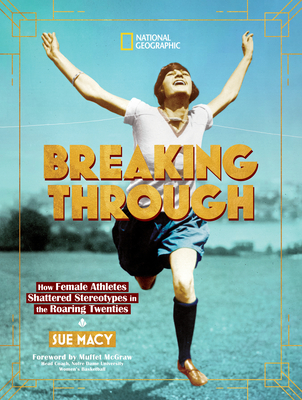 Breaking Through
How Female Athletes Shattered Stereotypes in the Roaring Twenties
Library Binding

* Individual store prices may vary.
Other Editions of This Title:
Hardcover (2/4/2020)
Description
Award-winning author Sue Macy offers a fresh and timely account of women in sports in the 1920s, and how their determination, talent, and defiance in the face of criticism promoted women's rights, redefined femininity, and changed the course of history.

Macy offers a rare and fascinating glimpse into the journey of women's rights through the lens of women in sports during the pivotal decade of the 1920s. With elegant prose, poignant wit, and fascinating primary sources, Macy explores the many hurdles presented to female athletes as they stormed the field, stepped up to bat, and won the right to compete in sports. Featuring bold and talented heroines, this book documents how the social issues and morals of the decade--from politics to segregation to the media--helped shape the changing narratives around women and alter the course of history entirely. It is a fascinating window into a rich and seldom explored history, and also a topical reminder of the many discussions surrounding femininity and the role of women that continue today.
Praise For Breaking Through: How Female Athletes Shattered Stereotypes in the Roaring Twenties…
"[Breaking Through] gathers a good deal of pertinent information and presents it chronologically in two-year chapters that end with intriguing roundups of other contemporary events and concerns. Sidebars offer period quotes from sportswriters. Illustrated with well-chosen vintage photos, this colorful book offers a lively introduction to women's athletics during the 1920s and follows it up with an engaging epilogue titled "Approaching Equality" and a detailed time line, "Defining Moments in Women's Sports." The author of Wheels of Change (2011) and Motor Girls (2017), Macy writes perceptively about the history of American women's sports." -- Booklist Starred Review

A feminist look at how events of the 1920s informed the role of female athletes through the next century of American sports. Art deco page designs, colorized archival photos, and reprinted news articles bring readers into the Roaring '20s, illustrating a time of radical change in women's liberation through the lens of sports… A recommended introduction to an often overlooked aspect of feminist history." -- Kirkus Reviews

"This book is ….visually appealing and includes high quality, well-selected photographs.... VERDICT: A fascinating and credible overview of women in American sports in the 1920s. A win for most public and school library collections." -- School Library Journal


"The content is direct and precise, its perspectives treated with nuance and care. When possible, the book relies on primary sources, including newspaper articles and quotes from athletes themselves... A satisfying ending shows that the initiatives of the 1920s reverberated through the following decades, laying the groundwork for continued pushes toward equality. Breaking Through is a stirring saga that uses excellent visual storytelling to capture a unique time in women's athletic history." -- Foreward



.
National Geographic Kids, 9781426336775, 96pp.
Publication Date: February 4, 2020
About the Author
Sue Macy is the author of Bull's-Eye: A Photobiography of Annie Oakley, Winning Ways: A Photohistory of American Women in Sports, and A Whole New Ball Game: The Story of the All-American Girls Professional Baseball League, among many other titles. She has received numerous awards and starred reviews for her work. Winning Ways and A Whole New Ball Game were both named ALA Best Books for Young Adults and NCSS-CBC Notable Social Studies Trade Books for Young People.