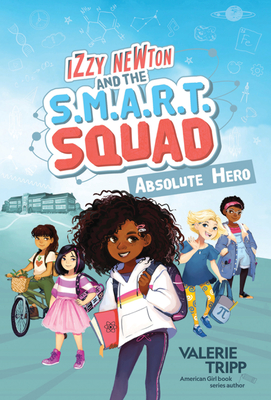 Izzy Newton and the S.M.A.R.T. Squad
Absolute Hero (Book 1)
Hardcover

* Individual store prices may vary.
Other Editions of This Title:
Hardcover (11/23/2021)
Hardcover (11/23/2021)
Paperback (10/5/2021)
Hardcover (9/8/2020)
Description
When middle school mishaps happen, five friends form the S.M.A.R.T. Squad and use their collective skills and the power of science to bring order to their school.

Science reigns supreme with this squad of young brainiacs. Join Izzy Newton and her friends in the first adventure of this fun new middle-grade fiction series from National Geographic Kids. A crowded new school and a crazy class schedule is enough to make Izzy feel dizzy. It may be the first day of middle school, but as long as her best friends Allie Einstein and Charlie Darwin are by her side, Izzy knows it'll all be okay. However, first-day jitters take an icy turn when Izzy's old pal Marie Curie comes back to town. Instead of a warm welcome, Marie gives her former pal the cold shoulder. The problems pile up when the school's air-conditioning goes on the fritz and the temperature suddenly drops to near freezing. The adults don't seem to have a clue how to thaw out the school. Cold temperatures and a frigid friendship? Izzy has had enough of feeling like an absolute zero. She rallies the girls to use their brainpower and science smarts to tackle the school's chilly mystery ... and hopefully to fix a certain frozen friendship along the way. Will the girls succeed and become the heroes of Atom Middle School?

From the acclaimed co-creator of the American Girl books series, this new series celebrates girl-power, STEM, friendship, diversity, and the power of being yourself.

It's one thing to have children's books about scientists or podcasts or stories about strong women in STEM, but it's another world entirely when your children get to feel represented by the characters they're reading about. -Romper


Loved Absolute Hero? Check out the second book in the Izzy Newton and the S.M.A.R.T. Squad series: Newton's Flaws
Praise For Izzy Newton and the S.M.A.R.T. Squad: Absolute Hero (Book 1)…
Izzy Newton started middle school with two big problems; the fourth member of her friend group, Marie Curie, isn't talking to Izzy, Charlie Darwin, or Allie Einstein anymore; and the school's air conditioning is broken, leaving everyone freezing. Luckily, she has the scientific method for solving the air conditioning problem and determination for her friend issue. This book tackles both problems simultaneously and introduces readers to basic scientific concepts along the way. Each girl's scientific interests mirror those of their namesakes, and short introductions of the real-life scientists are featured in the back matter. By the end, the friendship issue has been resolved as a misunderstanding, and the girls, along with a new friend, Gale Carver, have formed the S.M.A.R.T. (Solving Mysteries And Revealing Truths) Squad. United as the S.M.A.R.T. Squad, the girls put their science minds together to solve the air conditioning problem. While this book is longer and meant for an older audience, the writing style has a sentence structure and vocabulary level similar to the "American Girl" series. The result is a story that is simple and a bit clichéd for older readers, but a good read for younger readers who can handle a longer book. The first chapter is a bit disjointed, but once the story gets started, it is a truly fun read that many kids will not want to put down. The characters are racially diverse, with traditional and nontraditional family units. Fabulous black-and-white illustrations bring the characters to life and further align the book with a younger audience. Despite its minor issues, this series debut is sure to be popular.
VERDICT This first book in the upcoming series will be a hit, especially with younger proficient readers and hi-lo readers.—School Library Journal

This series opener highlights diverse, sympathetic characters using their smarts and their emotional intelligence to solve scientific and social challenges. Charlie has light-brown skin and speaks Spanish with her two moms, Allie presents white, Marie presents Asian, and new girl Gina Carver is black; Izzy is a winning black protagonist who steadily challenges herself and nurtures her friendships. Bowers' half- and full-page grayscale illustrations add personality to the characters. Backmatter offers further information on the characters real-life inspirations and women scientists. Wholesome entertainment for preteens, offering positivity without didacticism.—Kirkus

Written by girl-power expert Valerie Tripp---the author behind some of your favorite American Girl stories---the Izzy Newton and the S.M.A.R.T. Squad series features five brainy friends inspired by iconic scientists---Izzy Newton, Allie Einstein, Charlie Darwin, Marie Curie, and Gina Carver---as they go through the wild time that is middle school, with stories on friendship, growing up, and of course, solving mishaps with science and the scientific method. ... It's one thing to have children's books about scientists or podcasts or stories about strong women in STEM, but it's another world entirely when your children get to feel represented by the characters they're reading about. The characters in the Izzy Newton and the S.M.A.R.T. Squad series are diverse, smart, and sure of themselves the way all middle school girls are---through their dreams and newly acquired skills they're still getting used to.—Romper
Under the Stars, 9781426338694, 192pp.
Publication Date: September 8, 2020
About the Author
VALERIE TRIPP is the co-creator of the American Girl book series that includes titles featuring Felicity, Josefina, Kit, Maryellen, Molly, and Samantha. Tripp also wrote American Girl's WellieWisher titles, Hopscotch Hill School titles, and numerous leveled readers, songs, stories, skills book pages, and plays for other educational publishers. Tripp is writer and editorial director of the Boys Camp series, and a writer, editor, and art editor for Sterling Publishing Company. Tripp received a B.A. and honors as a member of the first co-educated class at Yale University and has a master's degree in education from Harvard University.

GENEVA BOWERS is a self-taught illustrator who lives in the North Carolina mountains. Her drawing career started at age seven, when she wanted to draw horses better than her sister. Bowers works mostly digitally, using a vivid palette and simple shapes to create interesting images. She enjoys hiking mountains, playing dungeon-crawling video games, and cracking bad puns.