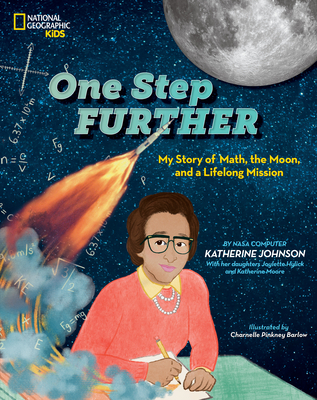 One Step Further
My Story of Math, the Moon, and a Lifelong Mission
Hardcover

* Individual store prices may vary.
Other Editions of This Title:
Hardcover (1/5/2021)
Description
A 2021 Publishers Weekly Black History Month pick!

This inspirational picture book reveals what is was like for a young black mother of three to navigate the difficult world of the 1950s and 60s and to succeed in an unwelcoming industry to become one of the now legendary "hidden figures" of NASA computing and space research.

Johnson's own empowering narrative is complemented by the recollections of her two daughters about their mother's work and insights about how she illuminated their paths, including one daughter's fight for civil rights and another's journey to become a NASA mathematician herself. The narrative gracefully weaves together Johnson's personal story, her influence on her daughters' formative years, her and her daughters' fight for civil rights, and her lasting impact on NASA and space exploration. Filled with personal reflections, exclusive family archival photos, and striking illustrations, readers will be immersed in this deeply personal portrayal of female empowerment, women in STEM, and the breaking down of race barriers across generations. Historical notes, photo/illustration notes, and a time line put the story into historical and modern-day context.


The inspirational tale of Johnson's perseverance is both intimate and global, showcasing the drive of each generation to push one step further than the last. With its evocative family album-style format and novel approach to storytelling, One Step Further is sure to inspire the next generation of rising stars.
Praise For One Step Further: My Story of Math, the Moon, and a Lifelong Mission…

A concise, engaging story of a Black family in the South during the Civil Rights era.—Booklist



This picture-book biography isn't just the story of NASA "computer" Katherine Johnson (1918–2020), who, among many noteworthy achievements, calculated the orbit for astronaut John Glenn's historic spaceflight around the Earth. It's also, importantly, the story of Johnson's three daughters, Joylette, Connie, and Kathy (two of whom are co-authors of the book)—and it's a poignant chronicle of the racism they all confronted. The book's scrapbook-like design features an impressive array of photographs: personal snapshots of Johnson and her family, photos of Johnson at work, images of her NASA badge and the pearl necklace she always wore, archival photos of segregated public spaces and of segregation protestors, and stock images of astronauts—the list goes on. Grounding all these photographs are Barlow's colorful illustrations; they unpack the emotion and lend immediacy, particularly to the daughters' experiences. For example, after the family's move to Newport News, Virginia, where Johnson soon started work at NACA (NASA's predecessor), a beach scene shows the three frowning girls, with Joylette saying, in a speech bubble: "We were forced to go to the 'Colored Only' beach. White people were mean to us because of the color of our skin." The blend of Johnson's and her daughters' voices is intimate and inspiring: "This is our story," they tell us, proclaiming their history with courage and pride. Back matter includes historical context on racial segregation in America, a biographical profile of Johnson, a timeline, and a glossary.—Horn Book

Engaging, collage-style art augments the text, with speech bubbles, archival family photographs, and Barlow's child-friendly illustrations. Concurrently accessible and intimate, this book will both inform readers and inspire them to reach for the stars.—Publishers Weekly

Katherine Johnson (1918–2020) had many roles: teacher, brilliant mathematician, role model, trailblazer for racial and gender equality, and devoted mother of three daughters. Written with two of her daughters, Joylette Hylick and Katherine Moore, this autobiographical picture book provides a fantastic account of Johnson's life. Johnson grew up as a math-loving little girl in West Virginia and graduated from high school at the age of 14. She earned her college degree from West Virginia State University (formerly West Virginia State College) and worked as an educator before joining NASA in 1953. Johnson's narrative is paired with speech bubbles, which contain Joylette and Kathy's personal insights and anecdotes. Charming illustrations are wonderfully juxtaposed with historical images, family photographs, and personal mementos like Johnson's report card. Young readers will come away with a clearer understanding of the gender discrimination faced by women in the workplace, racial segregation, and Jim Crow laws. The back matter describes additional details and the historical events that impacted Johnson's career and family. There's no greater tribute to her legacy than that her daughters followed in her footsteps. Joylette became a mathematician and worked for NASA. Kathy, as well as sister Connie, became teachers.
VERDICT A compelling personal account from a remarkable woman and her family.—School Library Journal
National Geographic Kids, 9781426371943, 48pp.
Publication Date: January 5, 2021
About the Author
KATHERINE JOHNSON, world-renowned NASA mathematician and one of the famed "Hidden Figures," was best known for her work that helped send John Glenn into orbit and Apollo 11 to the moon and back. She received the Presidential Medal of Freedom in 2016 and has two separate NASA facilities named in her honor.
JOYLETTE HYLICK followed in her mother's footsteps, working at NASA as a mathematician before taking a job with Lockheed Martin. She lives in Mount Laurel, New Jersey.
KATHERINE MOORE spent 33 years working in public education as an educator and guidance counselor. She resides in Greensboro, North Carolina.

CHARNELLE PINKNEY BARLOW, granddaughter of Caldecott-winning illustrator Jerry Pinkney, was surrounded by art as a child. Her passion for illustration grew after being introduced to the world of watercolors. She received her BFA in Illustration from the University of the Arts in Philadelphia and her MFA in Illustration as Visual Essay from the School of Visual Arts in New York City.