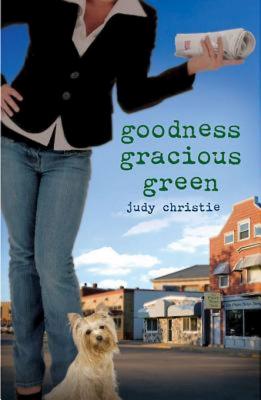 Goodness Gracious Green (Paperback)
Abingdon Press, 9781426700552, 252pp.
Publication Date: September 1, 2010
Other Editions of This Title:
Compact Disc (8/6/2019)
MP3 CD (9/6/2016)
* Individual store prices may vary.
Description
Will Lois Barker put down roots in Green . . . or will small-town life be too tough?The charming and uncertain journalist is delighted with her decision to keep The Green News-Item and excited about the possibility of romance with her good-looking catfish farmer/coach neighbor and the growth of her fresh faith and friendships.Her second year in Green has scarcely been rung in, though, before Lois is wrung out. The former owners of the paper want it back. The mayor's dog bites her on the face. A series of fires threaten Lois. And while her friends blossom, Lois feels wilted. Although Lois finds fresh hopes turning stale in her second year in Green, in the midst of challenges and lessons, Lois's journey still explodes with possibilities
Goodness Gracious Green opens as Lois Barker begins her second year in Green. How does the start of her year differ from what she expected? Have you ever had a similar experience, where things did not turn out as you thought they would? How did you respond? What surprised you about Day One of Year Two for Lois in Green?
What do you like best about Lois as she settles into her second year in Green—and what does she need to work on? How is she struggling and how is she blossoming? Have you had periods in your life when you felt as though you were growing but weren't always sure what to do?
Deciding to stay in Green was a tough decision for Lois, and she wonders at times in Goodness Gracious Green if she made the right decision. Do you think Lois did the right thing when she kept the little newspaper? In your life, do you wrestle with making decisions and wonder about them afterward? What advice would you give Lois?
Occasionally Lois finds that her former life as a big-city journalist in the Midwest clashes with her life in Green. In what ways does she see this happening? How well does she deal with it? In what ways is it good and in what ways might it be bad?
Lois wants the staff to help run the newspaper, but battles her own desire to be in control. Did she make the right decision to start the profit-sharing program? How can she handle this wisely? What part do the employees play in making this work? How are they handling it? If you were on Lois's staff, what suggestions would you have? Have you battled the issue of changing technology in your personal or professional life? How have you approached this?
Community correspondents are an important part of The Green News-Item. What do you think of their reporting? Why are their voices important? In what ways do they capture the personality of Green? Have you seen similar situations or news items in your life? How can a newspaper best represent its community?
In her daily life in Green, Lois interacts with a variety of characters who count on her for advice. How well does she handle this challenge? Who do you most like among these characters? Among the meaningful people in the changing life of Lois are young Katy and Molly. What do they symbolize in Goodness Gracious Green? In what ways are they alike and in what ways different? How might Lois help them in the future? Have you had an opportunity to mentor or coach a younger person? What did you learn from that experience? Do Katy and Molly remind you of anyone in your life?
The McCullers and Major Wilson continue to be part of Lois's life in Goodness Gracious Green. What roles do they play? How do they complicate things for Lois and the newspaper? What doubts do they raise for Lois, and how do they help her grow? What part do Aunt Helen's lessons play in these relationships?
The poverty in Green and on Route 2 troubles Lois and brings up a variety of issues in the community. Why do you think Lois is particularly bothered by this? How does she respond? Have you ever faced an issue that troubled you deeply, one that rose above others in your heart and mind? What was the issue and what actions did you take?
Green continues to face a host of changes—from an influx of immigrant workers to the new highway to the economic woes the paper and other businesses face. How do these changes affect Lois and the newspaper? What impact do they have on Grace Community Chapel? Do you find it hard to deal with change? How might Lois and the residents of Green learn to handle these changing situations?
Chris Craig plays a large part in Goodness Gracious Green. His relationship with Lois seems complex. Why is this? What are the biggest challenges they face as they grow closer? In what ways are they alike? In what ways are they different? What is Lois learning from Chris?
Life for Lois in Goodness Gracious Green is filled with transitions. What are some of those? How does she handle them? Have you had a time in your life when friends took different paths or when you had to handle a tough transition? How did you approach it?
The deep friendships that Lois has built in Green continue to grow. In what ways is she enriched by Dr. Kevin, Iris Jo, and Pastor Jean? What does she learn from them? List a few of the times these friends help Lois in Goodness Gracious Green. How have your friends helped you through life? Can you think of a particularly meaningful lesson you've learned from a friend or a friend who is available when you need him or her?
Lois continues to be on a journey in her life, and this includes trying to develop spiritually. Why is this a challenge to her? In what areas does she falter? How does she move forward? In your own life, have you wrestled with growing spiritually? What advice might you give Lois as she continues to ask tough questions about faith?
What thoughts do you have for Lois as her life moves forward? What do you think the future holds for her in Green? What changes do you think she will face?
List a few words you think Lois would use to describe her life in the months ahead. Make a similar list for your life. What steps will Lois have to take to make her dreams come true? What steps might you take to live the life you long for?
or
Not Currently Available for Direct Purchase