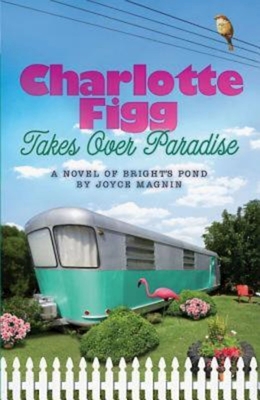 Charlotte Figg Takes Over Paradise (Paperback)
A Novel of Bright's Pond
Abingdon Press, 9781426707667, 400pp.
Publication Date: September 1, 2010
Other Editions of This Title:
MP3 CD (9/6/2016)
* Individual store prices may vary.
Description
Newly widowed Charlotte Figg purchases a double-wide trailer sight unseen and moves to the Paradise Trailer Park with her dog, Lucky. Unfortunately, neither the trailer nor Paradise are what Charlotte expected. Her trailer is a ramshackle old place in need of major repair, and the people of Paradise are harboring more secrets than Bayer has aspirin. Charlotte's new friend Rose Tattoo learns that Charlotte played softball and convinces her to rally the women of Paradise into a team. Reluctant at first, Charlotte warms to the notion and is soon coaching the Paradise Angels. Meanwhile, Charlotte discovers that the manager of Paradise, Fergus Wrinkel, abuses his wife, Suzy. Charlotte sets out to find a way to save Suzy from Fergus and in the process comes to a difficult realization about her own painful marriage.
Early in the novel Charlotte says she was filled with a sudden burst of wanderlust. Has this ever happened to you? Did you ever want to make a huge change, maybe even run away and start over?
How would you describe Charlotte and Herman's marriage? Was she happy? If not, what kept her tied to him?
Several times Charlotte mentions phantom pain. An amputee will sometimes say she can still feel pain even though the injured limb is gone. Life is like that. From time to time past hurts and emotional injuries surface. Discuss this.
The theme of sacrifice is important in Charlotte Figg Takes Over Paradise. What does it mean to you to sacrifice for your family, friends, God?
Rose Tattoo worked hard to cover her scars, even going so far as to hide them under tattoos. What does this say to you? Do you walk around with hidden scars? Why?
Rose has a giant concrete hand in her yard. She likes to sit in it and pray. She painted the Paradise residents' names on it as a way of lifting them to God. What does it mean to you to know that your name is written on God's hand and nothing can erase it—ever?
At first glance Paradise seems to be populated by misfits and oddballs. Is it really? Or do the people of Paradise have something the rest of the world is missing?
Charlotte played softball in her youth, but the joy of it was taken away from her. When she moved to Paradise, she got softball back. What does this tell you about redemption, about how God delights in giving us the desires of our heart?
The Paradise Angels started out rough, but in the end they became a team. The concept of being a team player is bandied about a lot in the corporate world, even in our PTOs and churches. Are you a team player? Are you comfortable in your position? Or are you more of a loner, going your way? Is there room for both?
Pie is always available in Paradise. Why is pie important? What does it represent?