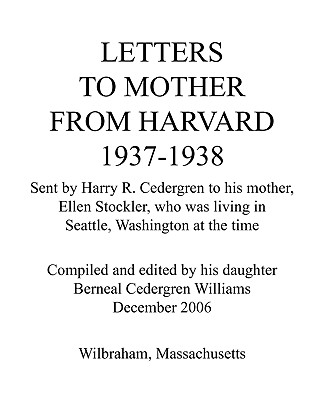 Letters to Mother from Harvard 1937-1938 (Paperback)
Sent by Harry R. Cedergren to His Mother, Ellen Stockler, Who Was Living in Seattle, Washington at the Time
Trafford Publishing, 9781426921254, 96pp.
Publication Date: December 23, 2009
* Individual store prices may vary.
Description
Over the last couple of years, Berneal Williams has gone through her father's old correspondence and files and among them she found a set of letters that he had written to his mother during the year 1937 to 1938 that he spent at Harvard University pursuing a Master's Degree in Soil Mechanics. Miracle of miracles, not only did she save the letters, but he saved them as well, so she has all of the originals along with many old photos that he took of Cambridge, Boston, and Harvard University.
Things were not good for our country (or for our world) at that time. The economy was still recovering from the Great Depression, Hitler was on the move in Europe, and life was uncertain. Ellen Lind Cedergren Stockler, her father's mother, was undoubtedly lonely. She was disappointed in her second marriage, her eldest son had joined the military and was gone, and her second child, Harry, was far away in some strange place called Boston. She did have a younger son by her second husband, Johnnie, who must have given her some comfort, but the thrust of her father's letters to his mother was an attempt to cheer her up and make her smile.
February 23, 1938 Dear Mother, Today I received your letter asking me to send you an airmail letter. I'm sorry it takes so long for you to get my letters, but you must realize that it requires about 5 days for a letter to go one way, and that the soonest ordinary mail can go two ways is about 10 days. Please don't worry if you don't hear from me as often as you like as I may let a few more days pass than I intend between letters.
Last evening, I helped Lawrence and the rest of the Observatory staff assemble pages for a book they are putting out. To save money, Dr. Shapley had the material printed on a Mimeograph machine...
About the Author
Berneal Cedergren Williams found a set of letters that her father, Harry R. Cedergren, had written to his mother during the year 1937-38 when he was at Harvard University. These letters showcase a special time in our country's history and show the close relationship between a mother and her son.