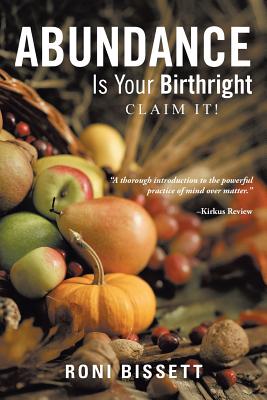 Abundance Is Your Birthright
Claim It!
Paperback

* Individual store prices may vary.
Other Editions of This Title:
Hardcover (1/24/2013)
Description
Learning to live abundantly is the ability to see, feel, believe, and expect abundance and prosperity in all areas of life-financially, physically, mentally, emotionally, and spiritually. Unfortunately what often holds us back from achieving abundance is what we believe deep inside about ourselves, our potentials, and our limitations. In her hands-on, step-by-step teaching manual, seasoned psychotherapist Roni Bissett shares practical tips and accompanying exercises that invite others to define their own meaning of abundance and create the lives they have always wanted to live. Bissett, a marriage and family counselor who has conducted numerous workshops on the art of living life abundantly, believes that if we lack abundance and prosperity in our lives, it is not because there is an absence of these things; instead, it is because we believe there is. While reinforcing the phrase "what we believe we create," Bissett explains how you can realize a happier existence through a series of steps that encourage you to look inward and - change thought patterns from negative into positive; - use the tools of the conscious mind to achieve goals; - identify prosperity barriers and attitudes about money; and - alter thinking through visualization and meditation. Abundance Is Your Birthright is an innovative guidebook that shares valuable advice for anyone ready to bring his or her unique definition of abundance into reality and ultimately achieve true happiness.
Trafford Publishing, 9781426972805, 78pp.
Publication Date: January 24, 2013