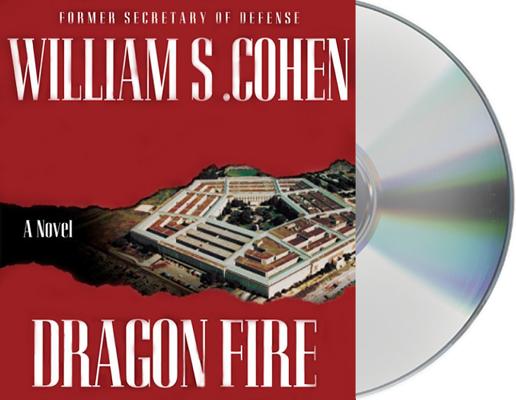 Dragon Fire (Compact Disc)
Macmillan Audio, 9781427200235
Publication Date: August 22, 2006
* Individual store prices may vary.
or
Not Currently Available for Direct Purchase
Description
        William S. Cohen, the former U.S. Senator and Secretary of Defense, has walked the most powerful corridors in the world. Now, in the intricately woven Dragon Fire where it's nearly impossible to distinguish fact from fiction, he takes listeners into the top secret rooms where the fate of the world is held in the hearts and minds of men with dangerous and hidden agendas.
        When the Secretary of Defense is assassinated, Michael Patrick Santini, a former Senator and Vietnam P.O.W., is pulled from his Wall Street firm back to Washington to lead the Pentagon. Once there, he discovers that the United States is under attack by a silent, sinister force. Someone, somewhere is determined to destroy America as a global power—and Santini must uncover and expose this force before more acts of deceit and destruction draw the U.S. into a war where millions will die. Rejecting a direct order from the President of the United States, Santini races across the globe in a desperate attempt to prevent a man from Santini's past from starting a global war.
About the Author
William S. Cohen served as Secretary of Defense under President Bill Clinton from 1997-2001, making him the 20th U.S. defense minister. It was the first time in recent American history that a president had elected a member of the opposing party to his cabinet. Born in Bangor, Maine in 1940, Cohen, a lawyer, was a member of the U.S. Senate and Congress for 24 years. He lives with his wife in the Washington, D.C. area. Holter Graham, winner of AudioFile's 2008 Best Voice in Science Fiction & Fantasy for Sherrilyn Kenyon's "Acheron," is a stage, television, and screen actor. A recipient of an AudioFile Earphones Award, he has recorded numerous audiobooks, including multiple books from Sherrilyn Kenyon's sensationally bestselling Dark-Hunter series. He has also narrated audiobooks for such authors as Scott Turow, Dean Koontz, John Berendt, and Stephen Frey. His film credits include Fly Away Home, Maximum Overdrive, Hairspray, and The Diversion, a short film which he produced and as well as acted in. On television, he has appeared in Army Wives, Damages, As The World Turns, Rescue Me, Law & Order and New York Undercover. He received a B.A. from Skidmore College and an M.F.A. from Vermont College.
Praise For Dragon Fire…
"Only someone who knows the minefields of world politics firsthand could have written this tense insider thriller. Former Secretary of Defense William Cohen draws us into the labyrinthine intrigues of the world's most powerful people in such a way that the pages seem to turn themselves." --Richard North Patterson
Advertisement