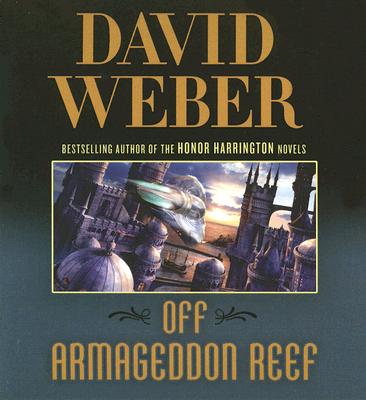 Off Armageddon Reef
Compact Disc

* Individual store prices may vary.
Other Editions of This Title:
Hardcover (1/9/2007)
Description
Humanity pushed its way to the stars—and encountered the Gbaba, a ruthless alien race that nearly wiped us out. Earth and her colonies are now smoldering ruins, and the few survivors have fled to distant, Earth-like Safehold, to try to rebuild. But the Gbaba can detect the emissions of an industrial civilization, so the human rulers of Safehold have taken extraordinary measures: with mind control and hidden high technology, they've built a religion in which every Safeholdian believes, a religion designed to keep Safehold society medieval forever.
 
800 years pass. In a hidden chamber on Safehold, an android from the far human past awakens. This android, Merlin, emerges into Safeholdian society to begin the process of provoking technological progress, which the Church of God Awaiting has worked for centuries to prevent. To conceal his formidable powers he finds a base of operations in Charis, a mid-sized kingdom with a talent for naval warfare, where he plans to make the acquaintance of King Haarahld and Crown Prince Cayleb, and maybe, just maybe, kick off a new era of invention. Which is bound to draw the attention of the Church…and, inevitably, lead to war.
 
It's going to be a long, long process. And David Weber's Off Armageddon Reef is going to be the can't-miss Sci-Fi epic of the decade.
Praise For Off Armageddon Reef…
"Wyman rises nicely to the near Herculean challenge of performing this 30-hour epic. His clear, expressive reading never falters while he skillfully navigates his way through a labyrinth of plot twists and multiple characters. Whether describing high-tech space battles or the covert activities of courtiers and spies, Wyman brings Weber's intricate world of Safehold to life." -- Publishers Weekly
"Oliver Wyman delivers this compelling novel with consistency throughout all 30 hours. His range of character voices and accents, as well as his gripping narrative tone, keeps listeners fully engaged." – AudioFile Magazine on Off Armageddon Reef
Macmillan Audio, 9781427200655
Publication Date: January 9, 2007
About the Author
David Weber is a science fiction phenomenon. His popular Honor Harrington space-opera adventures (most recently, "At All Costs") are "New York Times" bestsellers and can't come out fast enough for his devoted readers. Oliver Wyman, a native New Yorker, has appeared on stage as well as in film, and television. Oliver's work as a narrator extends to over 150 audiobooks and has won many him awards, including Audie awards for his reading of Lance Armstrong's autobiography, "It's Not About the Bike," and Thomas L. Friedman's "The World is Flat." Oliver has won five Audie Awards from the Audio Publisher's Association, fourteen Earphone Awards from AudioFile Magazine, and two Listen Up Awards from "Publisher's Weekly. "Oliver was named a 2008 Best Voice in Nonfiction & Culture by AudioFile Magainze.
or
Not Currently Available for Direct Purchase