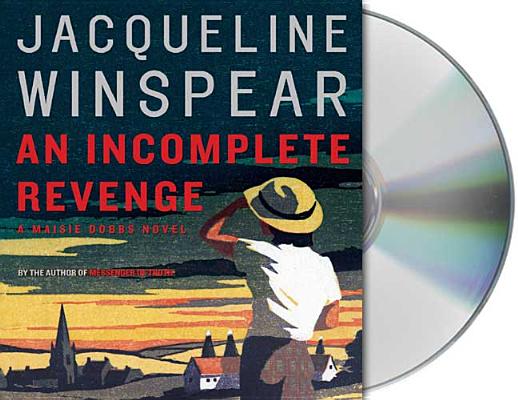 An Incomplete Revenge (Compact Disc)
MacMillan Audio, 9781427203014, 8pp.
Publication Date: February 19, 2008
* Individual store prices may vary.
or
Not Currently Available for Direct Purchase
Description
In her fifth outing, Maisie Dobbs, the extraordinary Psychologist and Investigator, delves into a strange series of crimes in a small rural community
With the country in the grip of economic malaise, and worried about her business, Maisie Dobbs is relieved to accept an apparently straightforward assignment from an old friend to investigate certain matters concerning a potential land purchase. Her inquiries take her to a picturesque village in Kent during the hop-picking season, but beneath its pastoral surface she finds evidence that something is amiss. Mysterious fires erupt in the village with alarming regularity, and a series of petty crimes suggests a darker criminal element at work. As Maisie discovers, the villagers are bitterly prejudiced against outsiders who flock to Kent at harvest time even more troubling, they seem possessed by the legacy of a wartime Zeppelin raid. Maisie grows increasingly suspicious of a peculiar secrecy that shrouds the village, and ultimately she must draw on all her finely honed skills of detection to solve one of her most intriguing cases.
Rich with Jacqueline Winspear's trademark period detail, this installment of the bestselling series, An Incomplete Revenge, is gripping, atmospheric, and utterly enthralling.
About the Author
Jacqueline Winspear is the author of the Maisie Dobbs novels, Maisie Dobbs, Birds of a Feather, Pardonable Lies, and Messenger of Truth. Maisie Dobbs won the Agatha, Alex and Macavity Awards; Birds of a Feather won the Agatha Award; and Pardonable Lies won the Sue-Feder/Macavity Award for Best Historical Mystery. Originally from the UK, Winspear now lives in California.Orlagh Cassidy is the winner of the 2009 Best Voice in Children & Family Listening and the 2008 and 2011 Best Voice in Mystery & Suspense. She's narrated for Jacqueline Winspear, James Patterson, Erica Spindler, Beth Harbison, and Frank Herbert, among others.
Praise For An Incomplete Revenge…
"Jacqueline Winspear's An Incomplete Revenge is an excellent option for a long car trip involving older kids, parents and grandparents.  Read with zest by Orlagh Cassidy..." - USA Today "Jacqueline Winspear adds a fascinating episode to the Maisie Dobbs series, which justly gains fans with each new story. Orlagh Cassidy began the audio series with PARDONABLE LIES and continues her appealing portraits of the characters. She smoothly, and quite elegantly, delivers a variety of accents of the Kent countryside gentry and townsfolk...Cassidy nicely conveys Maisie's honest wisdom, sensible approach to her "inquiries," and spirited manners. The details of village life, a community of Gypsies, and the shifts in attitudes of the late 1920s make a vivid audio mystery." - AudioFile, Earphones Award Winner "This series is outstanding in atmosphere, characters, dialogue, sense of place and time; and Cassidy's narration is nothing short of equally outstanding, as she demonstrates her facile skills with the many accents, tones, and emotions Winspear demands of her. One of the best mystery series around." -KLIATT "The mysteries are tantalizingly uncovered by Masie's gifts of observation and intelligence.  An Incomplete Revenge is one of the best mysteries of 2008...Orlagh Cassidy is pitch perfect in her reading..." - Deadly Pleasures  "Orlagh Cassidy unveils Maisie's character with a narration that makes a perfect composition of the text. Emotional tones convey post-war hopelessness and the painful division of the classes, adding to the mystery's tension." —AudioFile magazine on Messenger of Truth "Cassidy's perceptive reading reflects the jargon and British dialects of a wide mix of social classes." - Booklist
Advertisement