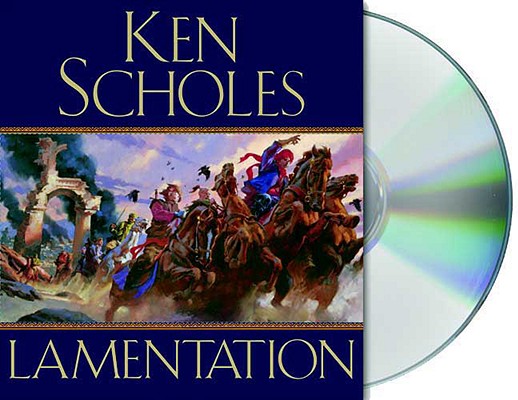 Lamentation
Compact Disc

* Individual store prices may vary.
Other Editions of This Title:
Digital Audiobook (2/16/2009)
Paperback (9/1/2009)
Hardcover (2/17/2009)
Mass Market (9/1/2009)
Description
In "Lamentation," the first entry in the Psalm of Isaak series, an ancient weapon has completely destroyed the city of Windwir. From many miles away, Rudolfo, Lord of the Nine Forest Houses, sees the horrifying column of smoke rising. He knows that war is coming to the Named Lands.
Nearer to the Devastation, a young apprentice is the only survivor of the city - he sat waiting for his father outside the walls, and was transformed as he watched everyone he knew die in an instant.
Soon all the Kingdoms of the Named Lands will be at each others' throats, as alliances are challenged and hidden plots are uncovered.
This remarkable first novel from award-winning short fiction writer Ken Scholes will take readers away to a new world - an Earth so far in the distant future that our time is not even a memory; a world where magick is commonplace and great areas of the planet are impassable wastes. But human nature hasn't changed through the ages: War and faith and love still move princes and nations.
Praise For Lamentation…
"This is the golden age of fantasy, with a dozen masters doing their best work.  Then along comes Ken Scholes, with his amazing clarity, power, and invention, and shows us all how it's done.  No more ponderous plotting - Scholes barely gives us time to breathe.  Yet he creates vivid characters, a world thick with detail, and wonders we've never seen before.  I wish my first novel had been this good.  I wish all five volumes of this series were already published so I could read them now."-- Orson Scott Card
"Ken Scholes is a hot new voice to watch for on the interesting frontier between science fiction and fantasy.  He has a keen eye for action and a keen ear for the sounds of the human heart.  Grab on now, because he's going places."--Harry Turtledove
"As intricate as a Whymer maze, Ken Scholes' Lamentation will keep the reader up until the wee hours, winding through this splendid labyrinth.  Bravo!"--Dennis L. McKiernan, bestselling author of the Mithgar series
"Ken Scholes's Lamentation is an iconic SF story cloaked in fantasy, drawing raw material from classics such as A Canticle for Liebowitz and Earth Abides, but forging something new, with colorful characters, compelling scenes, and unfolding miracles."--Kevin J. Anderson, bestselling co-author of Sandworms of Dune
"Ken Scholes' Lamentation is a whale of a first novel, set in a world where technological magic has come and gone, and come again, where organized religion has attempted to recover and restore lost knowledge, if with a certain amount of censorship, where no one is quite what they seem, and where parental ambitions for offspring are filled with deep love and sacrifices, along with double double-crosses, conflicting motives, and tragedy."--L.E. Modesitt, Jr.
"The tone of [Lamentation] is precise and just about exactly right: I was engaged from the opening page, stayed up late looking to finish it, and then begged Scholes to let me see the next book as soon as possible…. I'd describe it as intelligent epic fantasy done right and written with all of the flab removed. It's nothing like George Martin's first Song of Ice and Fire novel, except that like that book, it has the chance of standing as an important book in the evolution of the epic fantasy form, is a delight, and is a book that readers are very likely to take to heart. It's one of the best first fantasies I've read in some time."--Jonathan Strahan
Macmillan Audio, 9781427206251
Publication Date: February 17, 2009
About the Author
Ken Scholes's short fiction has been appearing in various magazines and anthologies for the last eight years, including "Realms of Fantasy," "Polyphony 6" and "Weird Tales." He is a winner of the Writers of the Future contest. Ken's background includes service in two branches of the military, a degree in history, a brief stint as a clergyman, an even briefer stint as a label-gun repairman and over ten years experience managing nonprofit organizations. Originally from the Puget Sound area, Ken currently lives in Gresham, Oregon, with his amazing wonder-wife Jen, two cats, five guitars, and more books than you'd ever want to help him move. Stefan Rudnicki was born in Poland and now resides in Studio City, California. He has narrated more than 100 audiobooks, and has participated in more than a thousand as a narrator, writer, producer, or director. He is a recipient of multiple Audie Awards and AudioFile Earphones Awards as well as a Grammy Award as an audiobook producer. Along with casts of other narrators, Stefan has read a number of Orson Scott Card's best-selling science fiction novels, published by Macmillan Audio. William Dufris is a native of Houlton, Maine but began his audio career in London, England. He has also acted on stage and in television, and is best known as the original North American voice of the cartoon character Bob in Nickelodeon's popular children's show, "Bob the Builder." William has been nominated six times as a finalist for the APA's prestigious Audie Awards. He garnered eighteen Golden Earphones Awards through "AudioFile" magazine, which honored him as one of "The Best Voices At The End Of The Century." Maggi-Meg Reed has performed as an actress and singer both on and off Broadway. She is the narrator of numerous popular audiobooks including Alex Kava's "One False Move," Sebastien Japrisot's "A Very Long Engagement," and Audrey Niffenegger's "The Time Traveler's Wife." Maggi-Meg is a multiple Audie nominee, Earphones winner, and "AudioFile" Featured Narrator. In 2008, she was named the Best Voice in Fiction & Classics by "AudioFile" magazine. Her voice can also be heard on television and radio commercials across the country. She lives in Brooklyn, NY. Scott Brick first began narrating audiobooks in 2000, and after recording almost 400 titles in five years, "AudioFile" magazine named Brick a Golden Voice and "one of the fastest-rising stars in the audiobook galaxy." He has read a number of titles in Frank Herbert's bestselling "Dune" series, and he won the 2003 Science Fiction Audie Award for "Dune: The Butlerian Jihad." Brick has narrated for many popular authors, including Michael Pollan, Joseph Finder, Tom Clancy, and Ayn Rand. He has also won over 40 "AudioFile" Earphones Awards and the "AudioFile" award for Best Voice in Mystery and Suspense 2011. In 2007, Brick was named "Publishers Weekly"'s Narrator of the Year.
or
Not Currently Available for Direct Purchase