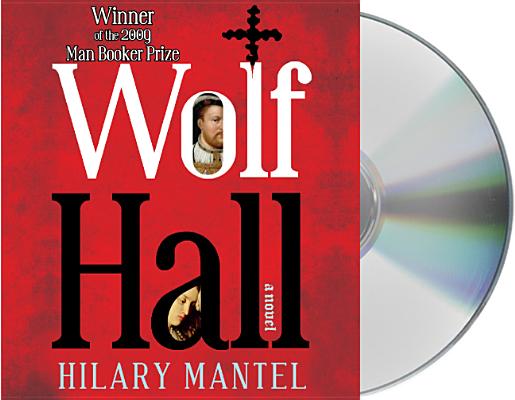 Wolf Hall (Compact Disc)
MacMillan Audio, 9781427210166, 18pp.
Publication Date: November 24, 2009
* Individual store prices may vary.
Description
In the ruthless arena of King Henry VIII's court, only one man dares to gamble his life to win the king's favor and ascend to the heights of political power
England in the 1520s is a heartbeat from disaster. If the king dies without a male heir, the country could be destroyed by civil war. Henry VIII wants to annul his marriage of twenty years, and marry Anne Boleyn. The pope and most of Europe opposes him. The quest for the king's freedom destroys his adviser, the brilliant Cardinal Wolsey, and leaves a power vacuum.
Into this impasse steps Thomas Cromwell. Cromwell is a wholly original man, a charmer and a bully, both idealist and opportunist, astute in reading people and a demon of energy: he is also a consummate politician, hardened by his personal losses, implacable in his ambition. But Henry is volatile: one day tender, one day murderous. Cromwell helps him break the opposition, but what will be the price of his triumph?
In inimitable style, Hilary Mantel presents a picture of a half-made society on the cusp of change, where individuals fight or embrace their fate with passion and courage. With a vast array of characters, overflowing with incident, the novel re-creates an era when the personal and political are separated by a hairbreadth, where success brings unlimited power but a single failure means death.
About the Author
Hilary Mantel is the author of Wolf Hall, winner of the 2009 Man Booker Prize and the National Book Critics Circle Award, and shortlisted for the Orange Prize for Fiction. She is also the author of A Change of Climate, A Place of Greater Safety, Eight Months on Ghazzah Street, An Experiment in Love, The Giant, O'Brien, Fludd, Every Day Is Mother's Day, Vacant Possession, and Beyond Black, which was shortlisted for the Orange Prize. She has also written a memoir, Giving Up the Ghost. Winner of the Hawthornden Prize, she reviews for The New York Times, The New York Review of Books, and the London Review of Books. She lives in England.Simon Slater is the narrator of Hilary Mantel's bestselling book Wolf Hall, which won an AudioFile Earphones Award. Slater's film credits include Dealers, Iron Lady, Hornblower and Entrapment. His work as a theatrical actor includes a five-year run in the musical Mamma Mia! as Sam Charmichael, as well as Forbidden Broadway (Fortune), Waiting for Godot, and Wind in the Willows (Nuffield Southampton). Slater has made guest appearances in many TV series, including Heartbeat, Birds of a Feather, Doctor Who, Inspector Morse, Lovejoy, Monarch of the Glen and Where the Heart Is. Slater has also appeared in the Theatre Royal In Winchester playing Captain Hook in a performance of Peter Pan during the Christmas season of 2010/2011.
Praise For Wolf Hall…
2010 AUDIE AWARD FINALIST: LITERARY FICTION
iTUNES: BEST AUDIOBOOKS OF 2009
THE WASHINGTON POST: TOP AUDIOS OF 2009
AUDIOFILE MAGAZINE EARPHONES AWARD WINNER Praise for the audio edition of WOLF HALL: "The 2009 Man Booker Prize-winning novel about Thomas Cromwell, Henry VIII's fixer and counselor has been brilliantly served by English actor (and composer) Simon Slater. He gives an ironic, Machiavellian edge to his voice as general narrator and renders the myriad characters with exceptional virtuosity. This performance is the best of the year: an absolute triumph, further enhancing an already magnificent novel."  – The Washington Post, Top Audio Books of '09 "Set aside a full day to savor Simon Slater's delightful reading of the Booker Prize-winning tale of Henry VIII's court, seen through the eyes of his adviser Thomas Cromwell…Slater's narration is nuanced and precise; he breathes feeling and subtle shades of emotion into every exchange of dialogue. His is a heroic undertaking, and he does admirable justice to Mantel's lucid prose and juicy plot." – Publishers Weekly, Starred Review "Slater seems to inhabit Cromwell's very soul, his voice imbued with urbane assurance, dark despair, calculating ambition, and sardonic wit. Each character rings true…Mantel's masterpiece, winner of the Man Booker Prize for Fiction, 2009, entrances with a gripping immediacy that carries listeners to a cliff-hanger ending, leaving fans clamoring for a sequel." –Booklist, Starred Review "Simon Slater's inspired narration of this year's Booker Prize novel, set in the court of Henry VIII, is on every count one of this year's outstanding audiobooks." – AudioFile, Earphones Award Winner "Read by Simon Slater in possibly the best performance of his career, Wolf Hall...never ceases to be gripping...the best audio book of the year." – The Winston-Salem Journal "Simon Slater does a masterful job of capturing Mantel's abundant and diverse characters." – Newsday "Simon Slater's reading is equal to Mantel's masterpiece, his voice shifting to match each speaker, with touches of rough British dialect, German and French accents expertly handled." – BookPage, Audio of the Month "Simon Slater's performance brings Thomas Cromwell out of history and into humanity." – FictionAudiobooks "If you haven't read the most absorbing, beautifully written book of 2009, wait no longer. Better yet, listen to it, for you cannot imagine the 16th century coming to life as it does in the hands of author Hilary Mantel and reader Simon Slater in Wolf Hall." - Newark Star Ledger "Mantel gets the rich pageantry and conniving schemes just right in her richly detailed historical saga, and Slater gets Mantel just right as well. His reading does justice to the novel's language, slipping into character voices as deftly as Cromwell negotiated court politics." - Library Journal
"Listeners unfamiliar with British history will find Slater's present-tense narration, as told through Cromwell's perspective, an ideal method of storytelling, turning formidable historical figures into intriguing personalities. Slater seems to inhabit Cromwell's very soul, his voice imbued with urbane assurance, dark despair, calculating ambition, and sardonic wit." – Booklist, Starred Review