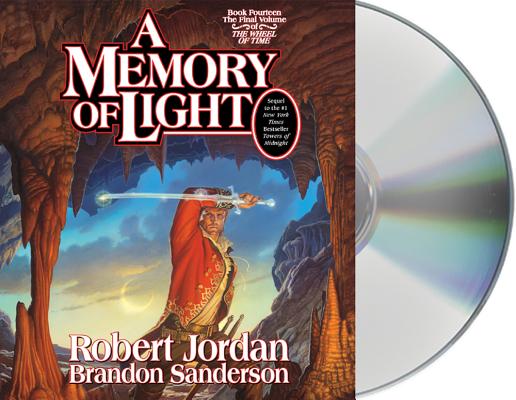 A Memory of Light (Compact Disc)
MacMillan Audio, 9781427210241, 33pp.
Publication Date: January 8, 2013
Description
Since 1990, when Robert Jordan's The Wheel of Time(r) burst on the world with its first book, "The Eye of the World, " readers have been anticipating the final scenes of this extraordinary saga, which has sold over forty million copies in over thirty-two languages.
When Robert Jordan died in 2007, all feared that these concluding scenes would never be written. But working from notes and partials left by Jordan, established fantasy writer Brandon Sanderson stepped in to complete the masterwork. With "The Gathering Storm" (Book 12) and "Towers of Midnight "(Book 13) behind him, both of which were # 1 "New York Times" hardcover bestsellers, Sanderson now re-creates the vision that Robert Jordan left behind.
Edited by Jordan's widow, who edited all of Jordan's books, "A Memory of Light" will delight, enthrall, and deeply satisfy all of Jordan's legions of listeners.
The Wheel of Time turns, and Ages come and pass.
What was, what will be, and what is,
May yet fall under the Shadow.
"Let the Dragon ride again on the winds of time.
About the Author
Robert Jordan (October 17, 1948-September 16, 2007), a native of Charleston, South Carolina, was the author of the bestselling The Wheel of Time(R), with millions of books in print.Brandon Sanderson grew up in Lincoln, Nebraska. He teaches creative writing at Brigham Young University and lives in Utah with his wife and children.Michael Kramer has narrated over 100 audiobooks for many bestselling authors. Kate Reading is the recipient of multiple AudioFile Earphones Awards and has been named by AudioFile magazine as a "Voice of the Century," as well as the Best Voice in Science Fiction & Fantasy in 2008 and 2009 and Best Voice in Biography & Culture in 2010.
Praise For A Memory of Light…
"The battle scenes have the breathless urgency of firsthand experience, and the . . . evil laced into the forces of good, the dangers latent in any promised salvation, the sense of the unavoidable onslaught of unpredictable events bear the marks of American national experience during the last three decades, just as the experience of the First World War and its aftermath gave its imprint to J. R. R. Tolkien's work."—The New York Times on The Wheel of Time®
"Michael Kramer and Kate Reading have been the masters of the Wheel of Time series from the very first book to this fourteenth, and final, book…They present the unfolding of the many themes with infinite patience and consistent tones of engagement with the characters and events." – AudioFile Magazine, Earphones Award winner
"The clear, well-paced, and intense performances by Kate Reading and Michael Kramer, who narrated the entire series, provide an excellent delivery of a complex and gargantuan tale." – Library Journal
"Narrators Kate Readings and Michael Kramer, who narrated previous installments of the series, return for this conclusion, and their deep understanding of these characters and this fictional world shines through every words. Kramer has a deep voice that pulls the reader in, while Reading's tones are more thoughtful and reflective. Both give memorable, nuanced performances that keep readers on the edge of their seats during exciting action scenes and put them in the characters' minds as thoughts are revealed…fans of the series will be well rewarded for their patience in awaiting this final installment." – Publishers Weekly
Advertisement