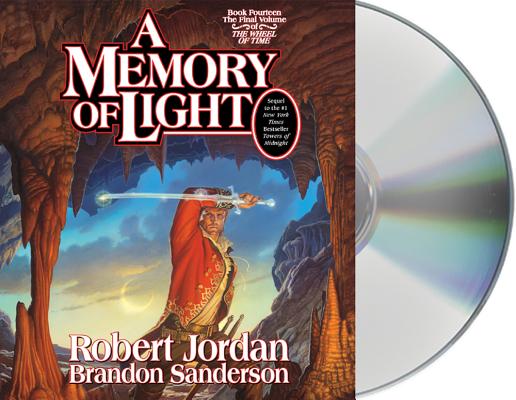 A Memory of Light
Book Fourteen of The Wheel of Time
CD-Audio

* Individual store prices may vary.
Other Editions of This Title:
Digital Audiobook (1/7/2013)
Paperback (10/6/2015)
Mass Market (6/30/2020)
Hardcover (1/8/2013)
Mass Market (12/31/2013)
Description
The Wheel of Time ® is a PBS Great American Read Selection! Now in development for TV!

Since 1990, when Robert Jordan's The Wheel of Time® burst on the world with its first book, The Eye of the World, readers have been anticipating the final scenes of this extraordinary saga, which has sold over forty million copies in over thirty languages. A Memory of Light is the fantastic conclusion to the internationally-bestselling epic fantasy juggernaut.

The Wheel of Time turns and Ages come and go, leaving memories that become legend. Legend fades to myth, and even myth is long forgotten when the Age that gave it birth returns again. In the Third Age, an Age of Prophecy, the World and Time themselves hang in the balance. What was, what will be, and what is, may yet fall under the Shadow.

When Robert Jordan died in 2007, all feared that these concluding scenes would never be written. But working from notes and partials left by Jordan, established fantasy writer Brandon Sanderson stepped in to complete the masterwork. With The Gathering Storm (Book 12) and Towers of Midnight (Book 13) behind him, both of which were # 1 New York Times hardcover bestsellers, Sanderson now re-creates the vision that Robert Jordan left behind in A Memory of Light.

Edited by Jordan's widow, who edited all of Jordan's books, A Memory of Light will delight, enthrall, and deeply satisfy all of Jordan's legions of readers.

The Wheel of Time turns, and Ages come and pass.
What was, what will be, and what is,
may yet fall under the Shadow.
Let the Dragon ride again on the winds of time.

TV series update: "Sony will produce along with Red Eagle Entertainment and Radar Pictures. Rafe Judkins is attached to write and executive produce. Judkins previously worked on shows such as ABC's "Agents of SHIELD," the Netflix series "Hemlock Grove," and the NBC series "Chuck." Red Eagle partners Rick Selvage and Larry Mondragon will executive produce along with Radar's Ted Field and Mike Weber. Darren Lemke will also executive produce, with Jordan's widow Harriet McDougal serving as consulting producer." —Variety

The Wheel of Time®
New Spring: The Novel
#1 The Eye of the World
#2 The Great Hunt
#3 The Dragon Reborn
#4 The Shadow Rising
#5 The Fires of Heaven
#6 Lord of Chaos
#7 A Crown of Swords
#8 The Path of Daggers
#9 Winter's Heart
#10 Crossroads of Twilight
#11 Knife of Dreams

By Robert Jordan and Brandon Sanderson
#12 The Gathering Storm
#13 Towers of Midnight
#14 A Memory of Light

By Robert Jordan
Warrior of the Altaii

By Robert Jordan and Teresa Patterson
The World of Robert Jordan's The Wheel of Time

By Robert Jordan, Harriet McDougal, Alan Romanczuk, and Maria Simons
The Wheel of Time Companion

By Robert Jordan and Amy Romanczuk
Patterns of the Wheel: Coloring Art Based on Robert Jordan's The Wheel of Time
Praise For A Memory of Light: Book Fourteen of The Wheel of Time…
"The battle scenes have the breathless urgency of firsthand experience, and the . . . evil laced into the forces of good, the dangers latent in any promised salvation, the sense of the unavoidable onslaught of unpredictable events bear the marks of American national experience during the last three decades, just as the experience of the First World War and its aftermath gave its imprint to J. R. R. Tolkien's work." —The New York Times on The Wheel of Time®

"Michael Kramer and Kate Reading have been the masters of the Wheel of Time series from the very first book to this fourteenth, and final, book…They present the unfolding of the many themes with infinite patience and consistent tones of engagement with the characters and events." —AudioFile Magazine, Earphones Award winner

"The clear, well-paced, and intense performances by Kate Reading and Michael Kramer, who narrated the entire series, provide an excellent delivery of a complex and gargantuan tale." —Library Journal

"Narrators Kate Readings and Michael Kramer, who narrated previous installments of the series, return for this conclusion, and their deep understanding of these characters and this fictional world shines through every words. Kramer has a deep voice that pulls the reader in, while Reading's tones are more thoughtful and reflective. Both give memorable, nuanced performances that keep readers on the edge of their seats during exciting action scenes and put them in the characters' minds as thoughts are revealed…fans of the series will be well rewarded for their patience in awaiting this final installment." —Publishers Weekly
Macmillan Audio, 9781427210241
Publication Date: January 8, 2013
About the Author
ROBERT JORDAN (1948-2007) is best known for his internationally bestselling epic fantasy series The Wheel of Time®, which has sold over 40 million copies in North America and is currently being adapted for the screen. A native of Charleston, Jordan graduated from The Citadel, the Military College of South Carolina, with a degree in physics. He served two tours in Vietnam with the U.S. Army and received multiple decorations for his service.
Michael Kramer has narrated over 100 audiobooks for many bestselling authors. He read all of Robert Jordan's epic Wheel of Time fantasy-adventure series as well as Brandon Sanderson's The Stormlight Archive series. He received AudioFile magazine's Earphones Award for the Kent Family series by John Jakes and for Alan Fulsom's The Day After Tomorrow. Known for his "spot-on character portraits and accents, and his resonant, well-tempered voice" (AudioFile), his work includes recording books for the Library of Congress's Talking Books program for the blind and physically handicapped.

Kramer also works as an actor in the Washington, D.C. area, where he lives with his wife, Jennifer Mendenhall (a.k.a. Kate Reading), and their two children. He has appeared as Lord Rivers in Richard III at The Shakespeare Theatre, Howie/Merlin in The Kennedy Center's production of The Light of Excalibur, Sam Riggs and Frederick Savage in Woody Allen's Central Park West/Riverside Drive, and Dr. Qari Shah in Tony Kushner's Homebody/Kabul at Theatre J.
Brandon Sanderson
grew up in Lincoln, Nebraska. He lives in Utah with his wife and children and teaches creative writing at Brigham Young University. He is the author of such bestsellers as the Mistborn® trilogy and its sequels,
The Alloy of Law
,
Shadows of Self
, and
The Bands of Mourning
; the Stormlight Archive novels
The Way of Kings
and
Words of Radiance
; and other novels, including
The Rithmatist
and
Steelheart
. In 2013, he won a Hugo Award for Best Novella for
The Emperor's Soul
, set in the world of his acclaimed first novel,
Elantris
. Additionally, he was chosen to complete Robert Jordan's Wheel of Time® sequence.
Kate Reading
is the recipient of multiple
AudioFile
Earphones Awards and has been named by
AudioFile
magazine as a "Voice of the Century," as well as the Best Voice in Science Fiction & Fantasy in 2008 and 2009 and Best Voice in Biography & Culture in 2010. She has narrated works by such authors as Jane Austen, Robert Jordan, Edith Wharton, and Sophie Kinsella. Reading has performed at numerous theaters in Washington D.C. and received a Helen Hayes Award for her performance in
Aunt Dan and Lemon
.
AudioFile
magazine reports that, "With subtle control of characters and sense of pacing, Kate's performances are a consistent pleasure."
or
Not Currently Available for Direct Purchase