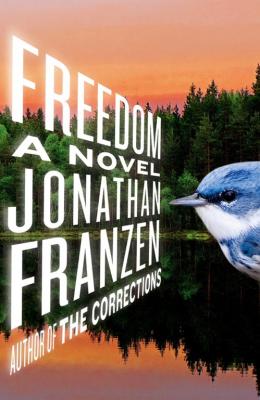 Freedom
Compact Disc

* Individual store prices may vary.
Other Editions of This Title:
Digital Audiobook (4/20/2012)
Digital Audiobook (8/30/2010)
Paperback (9/27/2011)
Paperback (8/3/2012)
Hardcover (8/31/2010)
Paperback (9/1/2011)
Hardcover, Japanese (12/1/2012)
Hardcover (9/17/2010)
Paperback (10/5/2011)
Paperback (9/1/2011)
Paperback (5/1/2011)
Hardcover (9/1/2010)
Hardcover, Large Print (11/1/2010)
Paperback, Large Print (9/28/2011)
Description
From the National Book Award-winning author of The Corrections, a darkly comedic novel about family.
Patty and Walter Berglund were the new pioneers of old St. Paul-the gentrifiers, the hands-on parents, the avant-garde of the Whole Foods generation. Patty was the ideal sort of neighbor, who could tell you where to recycle your batteries and how to get the local cops to actually do their job. She was an enviably perfect mother and the wife of Walter's dreams. Together with Walter-environmental lawyer, commuter cyclist, total family man-she was doing her small part to build a better world.
But now, in the new millennium, the Berglunds have become a mystery. Why has their teenage son moved in with the aggressively Republican family next door? Why has Walter taken a job working with Big Coal? What exactly is Richard Katz-outre rocker and Walter's college best friend and rival-still doing in the picture? Most of all, what has happened to Patty? Why has the bright star of Barrier Street become "a very different kind of neighbor," an implacable Fury coming unhinged before the street's attentive eyes?
In his first novel since The Corrections, Jonathan Franzen has given us an epic of contemporary love and marriage. Freedom comically and tragically captures the temptations and burdens of liberty: the thrills of teenage lust, the shaken compromises of middle age, the wages of suburban sprawl, the heavy weight of empire. In charting the mistakes and joys of Freedom's intensely realized characters as they struggle to learn how to live in an ever more confusing world, Franzen has produced an indelible and deeply moving portrait of our time.
Praise For Freedom…
"Its 25 hours of nonstop audio brilliance that has won [David] Ledoux the Audio File award for best reading of the year...Make no mistake: "Freedom" is one of the best-read audio books of recent years, and well worth the time and emotional involvement that's needed to enjoy it." - The Winston-Salem Journal "Masterful describes not only Jonathan Franzen's latest novel but also David Ledoux's reading of the book... The listener is drawn deeper into the story, experiencing every moment with the Berglunds as they try to cope with the changes in the world and in their home. FREEDOM demonstrates the power of both the written and spoken word." - AudioFile, winner of an Earphones Award "David LeDoux's masterly narration is powerful and well paced, comic and poignant. He expertly captures Walter and Patty—with her anxious whinny of a laugh—and their family life with its satisfactions and histrionics. LeDoux also deftly renders the gossiping of the Berglund's disingenuous neighbors; the frenetic rants of the drug addled Eliza; and the weary, disaffected drawl of sleazy musician Richard." - Publishers Weekly "The audio version of Freedom, read by David LeDoux, is perhaps the best read audio book I've ever heard." - Eric Alterman, The Nation "Jonathan Franzen's latest, Freedom, is a big, brilliantly evoked novel…Freedom's strongly articulated characters will draw you in, and David LeDoux's intelligent performance maintains the right narrative pace throughout." – BookPage, Audio of the Month "The highly anticipated follow-up to the National Book Award winner The Corrections (2001) lives up to the hype with Franzen's ability to capture the twists and turns of U.S. culture and history while weaving them into the lives of flawed but fully developed characters...If you have a patron wanting one of the most heralded books of this year or decade, this is it." - Library Journal "These CDs were over 19 hours long, but the narrator David LeDoux did an excellent job nuancing each of the characters' voices. I think this is one of the best-read single-narrator novels that I've listened to" – 5MinutesforBooks.com
"Narrator David LeDoux does an excellent job with this long and many-charactered novel; he is equally adept at capturing the angst of Walter's teenage daughter as the cigarette-smoking, hard-living Richard." – SoundCommentary.com
"Oprah's newest book-club pick is a natural fit for audio…Narrator Ledoux does a terrific job making this massive novel accessible to listeners." – Booklist, Starred Review, Editors' Choice List 2010
"Freedom is one of the best-read audio books of recent years, and well worth the time and emotional involvement that's needed to enjoy it." – Dale M. Pollock, Winston Salem Journal
MacMillan Audio, 9781427210494, 19pp.
Publication Date: August 31, 2010
About the Author
Jonathan Franzen is the author of "The Corrections," winner of the 2001 National Book Award for fiction; the novels "The Twenty-Seventh City "and "Strong Motion"; and two collections of essays, "How to Be Alone "and "The Discomfort Zone, "all published by FSG. He lives in New York City.David Ledoux has narrated a range of audiobooks, for which he has won and been nominated for several Audie and Earphones Awards. His work includes reading Jonathan Franzen's "Freedom," Sara Gruen's "Water for Elephants," and Douglas Copeland's "Hey Nostradamus!"