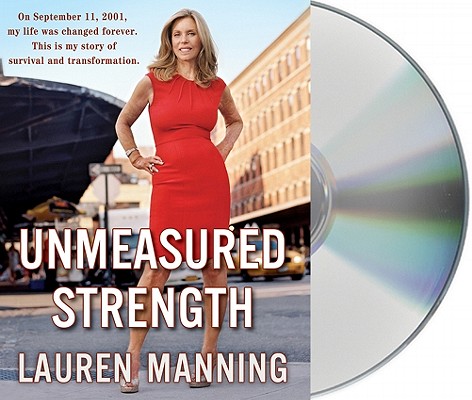 Unmeasured Strength
Compact Disc

* Individual store prices may vary.
Other Editions of This Title:
Digital Audiobook (8/29/2011)
Paperback (8/21/2012)
Hardcover (8/30/2011)
Description
A survivor's awe-inspiring story of how she overcame tragedy and re-created herself as a wife, mother, and woman
She was a hardworking business woman, had a loving husband and an infant son, and a confidence born of intelligence and beauty. But on 9/11, good fortune was no match for catastrophe. When a wall of flame at the World Trade Center burned more than 80 percent of her body, Lauren Manning began a ten-year journey of survival and rebirth that tested her almost beyond human endurance.
Long before that infamous September day, Manning learned the importance of perseverance, relentless hard work, and a deep faith in oneself. So when the horrific moment of her near-death arrived, she possessed the strength and resilience to insist that she would not yield—not to the terrorists, not to the long odds, not to the bottomless pain and exhaustion. But as the difficult months and years went by, she came to understand that she had to do more than survive. She needed to undergo a complete transformation, one that would allow her to embrace her life and her loved ones in an entirely new way.
Fleeing the burning tower, Manning promised herself that she would see her son's face again. Courageous and inspiring, Unmeasured Strength tells the riveting story of her heroic effort to make that miracle—and so many others—possible.
Praise For Unmeasured Strength…
"Unmeasured Strength is a gripping tale of [Lauren Manning's] long fight back from a devastating injury that easily could have killed her… She has valuable lessons to impart about the personal challenges of overcoming physical and emotional adversity."—The Wall Street Journal
"Intense, humbling, Manning's story is, above all, amazing."—Parade
"With the steadfast love of her husband, Greg… and her own unwavering focus, Manning's inspiring memoir records an extraordinary path of resilience and willpower."—Vogue
"All the emotion in her voice that's necessary shines through as she reads…Because of the way Lauren tells her story, even those who might normally be squeamish about hearing someone tell about medical procedures shouldn't worry. She speaks of her lengthy return to health tactfully and with grace, and I highly recommend this audiobook to anyone." – Bookloons
"You are brave and courageous and a hero to all of us."--Hillary Rodham Clinton, Senator from New York, 2001
"Your essence defines what it means to be survivor."—Oprah
"This is a very inspiring book."—Barbara Walters, The View
"I have found my new hero. Her name is Lauren Manning…Her determination is awe inspiring. She is the most remarkable woman I think I've ever met."—Katie Couric
"One of the most extraordinary books I've read in a long time. I recommend everyone to go and read this, because it's a tale of inspiration and courage."—Piers Morgan, CNN
"It's a powerful book … There are so many 9/11 remembrances and so many 9/11 stories as we commemorate, celebrate, this tenth anniversary, but this one is the one that everybody's talking about."—Tavis Smiley, PBS
"Unmeasured Strength is an extraordinary book. It is heartbreaking and shocking, compassionate and uplifting. It is a testament to determination and to love. Manning shows that life has things worth fighting for, if you have the clarity to see them and to fight unwaveringly until the end."—BookReporter.com
"[An] uplifting story of courage, love and compassion… With honesty and simplicity, Manning details her miraculous escapes first from the crippled North Tower; then from limb amputation; and then from death, which stalked her relentlessly for three months. … Ten years later, her life has returned to 'normality' thanks to the unstinting love shown her by family, friends and strangers."—Kirkus
"Your message of hard work and faith would resonate in the day to day difficulties that we all face … Lauren, your grace and courage are an inspiration."—Marla Lerner Tanenbaum Principal Owner, Washington Nationals Chairperson, Washington Nationals Dream Foundation
"Unmeasured Strength is both an enduring story about the resilience of character and an ode to the human determination to defeat evil. Lauren Manning did what the mighty Greek Sisyphus could never do: push the boulder to the top of the hill and never let it roll down. She has written a brilliantly vivid, wholly empowering tour de force that makes the impossible seem possible; her inspiring example just may teach us how to reverse our fates."—Lucinda Franks, winner of the Pulitzer Prize, author of My Father's Secret War
"An extraordinary story of the spirit's triumph over pain and the body's will to stay in this world despite being literally burned alive in the fires of the Twin Towers…This is a message of hope that we can all be grateful to share."—Vartan Gregorian, President, Carnegie Corporation of New York
Macmillan Audio, 9781427214249
Publication Date: August 30, 2011
About the Author
Lauren Manning is a former managing director and partner at Cantor Fitzgerald. Her story of surviving the 9/11 attacks has been featured on "The Oprah Winfrey Show," NBC's "Today Show," and many other media outlets around the world; CNN recently chose her as one of the most intriguing newsmakers of the past twenty-five years. The recipient of many honors and awards, she lives in New York City with her husband, Greg, and their two sons, Tyler and Jagger.
or
Not Currently Available for Direct Purchase