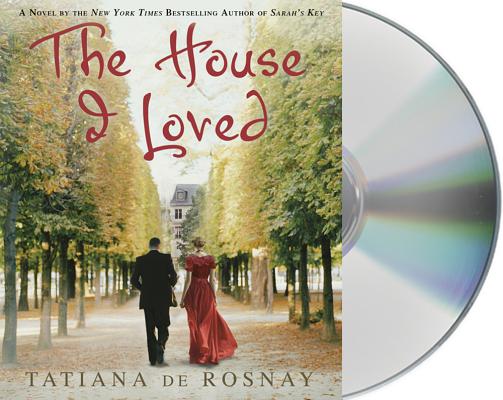 The House I Loved (Compact Disc)
MacMillan Audio, 9781427214850, 5pp.
Publication Date: February 14, 2012
* Individual store prices may vary.
or
Not Currently Available for Direct Purchase
Description
From the "New York Times" bestselling author of" Sarah's Key" and "A Secret Kept" comes an absorbing new novel about one woman's resistance during an epoque that shook Paris to its very core.
Paris, France: 1860's. Hundreds of houses are being razed, whole neighborhoods reduced to ashes. By order of Emperor Napoleon III, Baron Haussman has set into motion a series of large-scale renovations that will permanently alter the face of old Paris, moulding it into a "modern city." The reforms will erase generations of history but in the midst of the tumult, one woman will take a stand.
Rose Bazelet is determined to fight against the destruction of her family home until the very end; as others flee, she stakes her claim in the basement of the old house on rue Childebert, ignoring the sounds of change that come closer and closer each day. Attempting to overcome the loneliness of her daily life, she begins to write letters to Armand, her beloved late husband. And as she delves into the ritual of remembering, Rose is forced to come to terms with a secret that has been buried deep in her heart for thirty years. Tatiana de Rosnay's "The House I Loved" is both a poignant story of one woman's indelible strength, and an ode to Paris, where houses harbor the joys and sorrows of their inhabitants, and secrets endure in the very walls...
About the Author
TATIANA DE ROSNAY is the author of ten novels, including the "New York Times "bestselling novel "Sarah's Key," an international sensation with over 4 million copies sold in thirty-five countries worldwide that has now been made into a major film to be released in Spring, 2011. Together with Dan Brown, Stephenie Meyer, and Stieg Larsson, she was named one of the top ten fiction writers in Europe in 2009. Tatiana lives with her husband and two children in Paris, where she is at work on her next novel.Kate Reading is the recipient of multiple "AudioFile" Earphones Awards and has been named by "AudioFile" magazine as a "Voice of the Century," as well as the Best Voice in Science Fiction & Fantasy in 2008 and 2009 and Best Voice in Biography & Culture in 2010. She has narrated works by authors as Jane Austen, Robert Jordan, Edith Wharton, and Sophie Kinsella. Reading has performed at numerous theaters in Washington D.C. and received a Helen Hayes Award for her performance in Aunt Dan and Lemon.
Praise For The House I Loved…
"The audiobook passes quickly, giving listeners a compelling crash course on a pocket of French history while entertaining them with the story of a woman who seems to walk the line between completely rational and utterly daft." – Fort Worth Star-Telegram
"Tatiana de Rosnay's novel is skillfully narrated by the delightful Kate Reading…Reading's subtle tones and refined accents are pitch-perfect as Rose reveals her most cherished moments and her deepest secrets." – AudioFile Magazine
"If you pick up the audio version, it is only enhanced by Kate Reading's narration. Her French accent complemented the story without being distracting and gave a strong voice to the story's heroine." – Columbia Daily Tribune
"An emotional, poignant story of adoration, loss, and bravery, The House I Loved is an unforgettable listening experience, and highly recommended." – The Midwest Book Review
"Kate Reading's narration transports listeners to the streets of Paris…De Rosnay's prose is enhanced by Reading's stellar narration; she reads with a robust English accent, sprinkling her performance with almost flawless French pronunciations." – Publishers Weekly
"As we get to know Rose (through Kate Reading's voice, her intimate laughter, and the smiles that we can hear in her tone), we begin to wait patiently as she builds the courage to tell us the secret she's kept locked up for most of her life." – New World Review
"An audio book makes a welcome companion on a long drive, provided it's the right one. This fits the bill: absorbing and easy to follow without the complexities that might make it a driving distraction." – Newark Star-Ledger
Advertisement