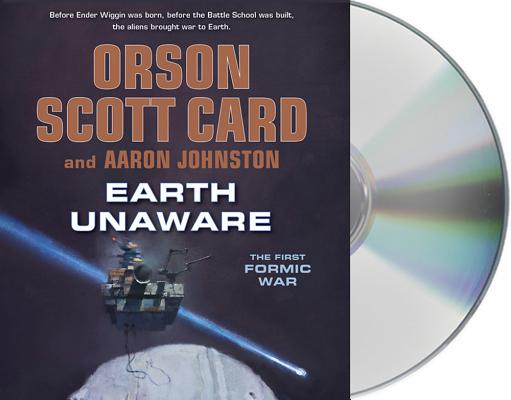 Earth Unaware (The First Formic War #1)
CD-Audio

* Individual store prices may vary.
Other Editions of This Title:
Digital Audiobook (7/16/2012)
Mass Market (4/30/2013)
Paperback, Spanish (6/30/2013)
Hardcover (7/17/2012)
Description
A hundred years before Ender's Game, humans thought they were alone in the galaxy. Humanity was slowly making their way out from Earth to the planets and asteroids of the Solar System, exploring and mining and founding colonies.
The mining ship El Cavador is far out from Earth, in the deeps of the Kuiper Belt, beyond Pluto. Other mining ships, and the families that live on them, are few and far between this far out. So when El Cavador's telescopes pick up a fast-moving object coming in-system, it's hard to know what to make of it. It's massive and moving at a significant fraction of the speed of light.
But the ship has other problems. Their systems are old and failing. The family is getting too big. There are claim-jumping corporates bringing Asteroid Belt tactics to the Kuiper Belt. Worrying about a distant object that might or might not be an alien ship seems…not important.
They're wrong. It's the most important thing that has happened to the human race in a million years. This is humanity's first contact with an alien race. The First Formic War is about to begin.
Earth Unaware is the first novel in The First Formic War series by Orson Scott Card and Aaron Johnston.
Praise For Earth Unaware (The First Formic War #1)…
"The somber basso voice of Stefan Rudnicki and two well-chosen players march through the story, with a young man's voice particularly effective in segments featuring the angst-ridden teenager. This is an outstanding job, with more to come." —AudioFile Magazine
"As the narration passes from character to character, the talented cast... easily keeps listeners intrigued with skillful characterizations that feature unique voices, accents, and dialects. And by the time the huge alien ship arrives and the story kicks into high gear, listeners will be utterly captivated by this exciting adventure." —Publishers Weekly
Macmillan Audio, 9781427221544
Publication Date: July 17, 2012
About the Author
Orson Scott Card is best known for his science fiction novel Ender's Game and its many sequels that expand the Ender Universe into the far future and the near past. Those books are organized into the Ender Quintet, the five books that chronicle the life of Ender Wiggin; the Shadow Series, that follows on the novel Ender's Shadow and are set on Earth; and the Formic Wars series, written with co-author Aaron Johnston, that tells of the terrible first contact between humans and the alien "Buggers." Card has been a working writer since the 1970s. Beginning with dozens of plays and musical comedies produced in the 1960s and 70s, Card's first published fiction appeared in 1977 -- the short story "Gert Fram" in the July issue of The Ensign, and the novelette version of "Ender's Game" in the August issue of Analog. The novel-length version of Ender's Game, published in 1984 and continuously in print since then, became the basis of the 2013 film, starring Asa Butterfield, Harrison Ford, Ben Kingsley, Hailee Steinfeld, Viola Davis, and Abigail Breslin. Card was born in Washington state, and grew up in California, Arizona, and Utah. He served a mission for the LDS Church in Brazil in the early 1970s. Besides his writing, he runs occasional writers' workshops and directs plays. He frequently teaches writing and literature courses at Southern Virginia University.
He is the author many sf and fantasy novels, including the American frontier fantasy series "The Tales of Alvin Maker" (beginning with Seventh Son), There are also stand-alone science fiction and fantasy novels like Pastwatch and Hart's Hope. He has collaborated with his daughter Emily Card on a manga series, Laddertop. He has also written contemporary thrillers like Empire and historical novels like the monumental Saints and the religious novels Sarah and Rachel and Leah. Card's recent work includes the Mithermages books (Lost Gate, Gate Thief), contemporary magical fantasy for readers both young and old. Card lives in Greensboro, North Carolina, with his wife, Kristine Allen Card, He and Kristine are the parents of five children and several grandchildren.
Stefan Rudnicki
is an award winning audiobook narrator, director and producer. He was born in Poland and now resides in Studio City, California. He has narrated more than three hundred audiobooks and has participated in over a thousand as a writer, producer, or director. He is a recipient of multiple Audie Awards and
AudioFile
Earphones Awards as well as a Grammy Award, a Bram Stoker Award, and a Ray Bradbury Award. He received
AudioFile
's award for 2008 Best Voice in Science Fiction and Fantasy. Along with a cast of other narrators, Rudnicki has read a number of Orson Scott Card's best-selling science fiction novels. He worked extensively with many other science fiction authors, including David Weber and Ben Bova. In reviewing the twentieth anniversary edition audiobook of Card's
Ender's Game
,
Publishers Weekly
stated, "Rudnicki, with his lulling, sonorous voice, does a fine job articulating Ender's inner struggle between the kind, peaceful boy he wants to be and the savage, violent actions he is frequently forced to take." Rudnicki is also a stage actor and director.
AARON JOHNSTON is a
New York Times
bestselling author, comic book writer, and screenwriter who often collaborates with science-fiction legend Orson Scott Card (
Invasive Procedures
,
Earth Unaware
,
Earth Afire
,
Earth Awakens
). He and his wife are the parents of four children.
or
Not Currently Available for Direct Purchase