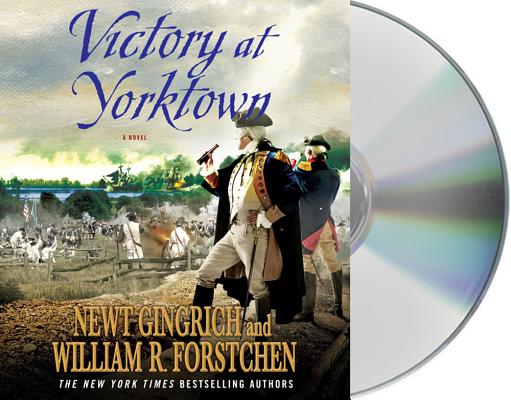 Victory at Yorktown (Compact Disc)
MacMillan Audio, 9781427221841, 10pp.
Publication Date: November 13, 2012
* Individual store prices may vary.
or
Not Currently Available for Direct Purchase
Description
"New York Times" bestselling authors Newt Gingrich's and William R. Forstchen's George Washington series continues-a novel about faith, leadership, and the triumph of the American cause
It is 1781, and Washington and his army have spent three years in a bitter stalemate, engaging in near constant skirmishing against the British. The enemy position in New York City is too strong, all approaches blocked by the Royal Navy. At last, two crucial reports reach Washington. The first is that the French have briefly committed a fleet to the American coast. The second is that British General Cornwallis, driven to distraction by protracted warfare in the Carolinas, has withdrawn into Yorktown. Washington decides to embark on one of the most audacious moves in American military history. He will force-march nearly his entire army south more than three hundred miles, in complete secrecy, counting on a blockade of the Chesapeake Bay by the French navy, fall upon Cornwallis, and capture his entire force. It is a campaign ladened with "ifs" but the stalemate must be broken, otherwise America, after six long years of war, will crumble.
Sgt. Peter Wellsley must pave the way for the army, neutralizing any loyalists who might provide warning. On the other side, Allen Van Dorn receives reports from civilians that something is afoot and is tasked to find out what. As Wellsley moves to block any leaks, Van Dorn tries to penetrate the screen. When one of the former friends is captured, both must decide where their true loyalties lie during the heat of the Battle of Yorktown, as Washington's professional army, once a "rabble in arms," executes the war's most decisive contest.
With "Victory at Yorktown," critically acclaimed authors Newt Gingrich and William R. Forstchen have reached the pinnacle of their talents in a tour de force narrative of one of America's most important heroes.
About the Author
NEWT GINGRICH, candidate for President of the United States and former Speaker of the House, is the bestselling author of Gettysburg and Pearl Harbor and the longest serving teacher of the Joint War Fighting Course for Major Generals at Air University and is an honorary Distinguished Visiting Scholar and Professor at the National Defense University. He resides in Virginia with his wife, Callista, with whom he hosts and produces documentaries, including their latest, A City Upon A Hill. WILLIAM R. FORSTCHEN, Ph.D., is a Faculty Fellow at Montreat College in Montreat, North Carolina and is the author of more than forty books, including the "New York Times" bestseller "One Second After" and "We Look Like Men of War." WILLIAM DUFRIS has been nominated six times as a finalist for the APA's prestigious Audie Awards. He garnered eighteen Golden Earphones Awards through "AudioFile" magazine, which honored him as one of "The Best Voices At The End Of The Century." Of his work, "AudioFile" magazine said, "William Dufris commands a dazzling array of voices that bring to life the dozens of audiobooks he's narrated."
Praise For Victory at Yorktown…
"William Dufris follows the authors' lead and concentrates on emotions…Listeners interested in military history will be familiar with the story but intrigued by the emotions." – AudioFile Magazine
Advertisement