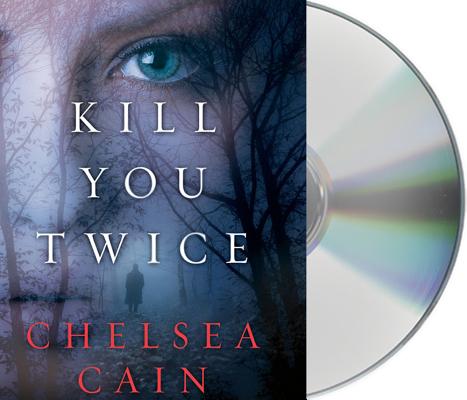 Kill You Twice
Compact Disc

* Individual store prices may vary.
Other Editions of This Title:
Digital Audiobook (8/6/2012)
Hardcover, Large Print (11/9/2012)
Mass Market (7/2/2013)
Hardcover (8/7/2012)
Description
Nothing makes Portland detective Archie Sheridan happier than knowing that Gretchen Lowell the serial killer whose stunning beauty is belied by the gruesome murders she's committed is locked away in a psych ward. Archie can finally heal from the near-fatal physical and emotional wounds she's inflicted on him and start moving on with his life.
To this end, Archie throws himself into the latest case to come across his desk: A cyclist has discovered a corpse in Mount Tabor Park on the eastern side of Portland. The man was gagged, skinned, and found hanging by his wrists from a tree. It's the work of a killer bold and clever enough to torture his victim for hours on a sunny summer morning in a big public park and yet leave no trace.
And then Archie gets a message he can't ignore Gretchen claims to have inside knowledge about this grisly murder. Archie finally agrees to visit Gretchen, because he can't risk losing his only lead in the case. At least, that's what he tells himself . . . but the ties between Archie and Gretchen have always been stronger, deeper, and more complex than he's willing to admit, even to himself. What game is she playing this time? And even more frightening, what long-hidden secrets from Gretchen's past have been dredged up that someone would kill to protect?
At once terrifying and magnetic, "Beauty Killer" Gretchen Lowell returns with a vengeance in "Kill You Twice, " Chelsea Cain's latest razor-sharp psychological thriller.
Praise For Kill You Twice…
"In this fifth Archie/Gretchen matchup, Chelsea Cain's writing is sharp as a scalpel, and Delaine wields it with deadly accuracy." – AudioFile Magazine, AudioFile Earphones Award Winner
"Reader Christina Delaine does a fine job differentiating between female characters…Her triumph is the evil tone she brings to Gretchen." – The Star-Ledger
---------------------------------
Praise for the print edition of Kill You Twice

"Utterly fresh and compelling. . .Cain hits the narrative throttle with all cylinders firing. Like the best thriller writers, though, she knows how to ease off the throttle, too, making room for subtle and satisfying character interplay but at the same time building tension as we wait for the narrative to burst into overdrive once again. Masterful on every level."
—Booklist (starred review)

"Utter engrossing. . .Cain [creates] riveting character drama between two damaged souls."
—Publishers Weekly (starred review)

The Night Season

"Cain's novel has headlong pacing, endearing characters, twisted humor, and scalpel-sharp descriptions of murder and mayhem. It grabs you like a deadly undertow and doesn't let you go."
—Parade Magazine

"High-octane ending. . .The world that Cain creates is as dark and ominous as ever."
—The New York Times Book Review

"Cain kept me perilously on edge at all times, teetering off a watery precipice from which there may have been no escape. I cannot recommend her immersive work highly enough."
—Louisville Courier-Journal

"Cain's prose is taut, tense, and terrifying as this strange case develops and shudders with new details and twists. You'll never guess the ending."
—Providence Journal

"Superb. . .Cain skillfully incorporates the details of the real-life Vanport flood into her story… Cain pinned readers to their seats with a unique mix of horror, black humor, and psychological tension. This time she adds another arrow to her narrative quiver: the interplay between landscape and mood. This may be the best thriller set in a flooding city since Donna Leon's Acqua Alta."
—Booklist (starred review)

"Superb. . .[Cain is] the new queen of serial-killer fiction."
—Kirkus Reviews

"Cain's fine fourth thriller. . .Cain easily weaves the history of the real-life Vanport flood with her trademark heart-stopping moments, and fans will be pleased to see the series flourishing without Gretchen on every page."
—Publishers Weekly (Top 10 Mystery of the Year)

"Chelsea Cain fills her new novel with dark atmosphere, a quick-thinking, likable hero, fast-moving narrative and plenty of wit."
—Associated Press

Evil at Heart

"You have to hand it to Cain, who's made the serial-killer genre a thoroughly female-friendly experience. . .[She] churns stomachs with a delicate touch."
—The New York Times Book Review

"She's the most twisted—and most beautiful—serial killer on the planet, and she's back... Cain's wonderfully over-the-top series takes a new turn when fans of Gretchen try their hand at killing. It's not to be missed."
—USA Today

"Cain is among a new breed of women writers stepping way out of the stereotypical female comfort zones… serving up meatier and more gruesome stories. . .Cain knows how to keep readers fortified with psychological drama."
—Chicago Sun Times

"The narrative bounces along with Cain's trademark mix of tight plotting, creepy characters, and body parts."
—Charlotte Observer
MacMillan Audio, 9781427221902, 9pp.
Publication Date: August 7, 2012
About the Author
CHELSEA CAIN'S first four novels featuring Archie Sheridan have all been "New York Times" bestsellers. Also the author of "Confessions of a Teen Sleuth," a parody based on the life of Nancy Drew, and several nonfiction titles, she was born in Iowa, raised in Bellingham, Washington, and now lives in Portland, Oregon.CHRISTINA DELAINE is a successful audio book narrator who has voiced the works of several "New York Times" bestsellers such as Chelsea Cain and Erica Spindler. She won "AudioFile" Earphones Awards for her readings of Susan Wilson's "The Dog Who Danced "and Chelsea Cain's "Kill You Twice. "