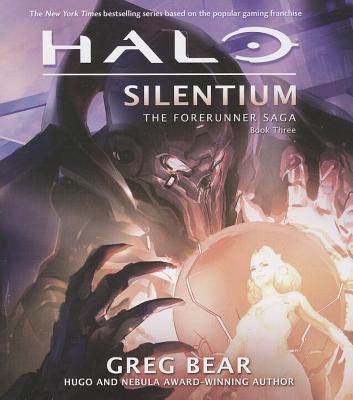 Silentium
Compact Disc

* Individual store prices may vary.
Other Editions of This Title:
Digital Audiobook (12/31/2018)
Paperback (3/26/2019)
Hardcover (3/19/2013)
Paperback (2/18/2014)
Compact Disc (1/1/2019)
Description
In "Halo: Silentium," Greg Bear's final novel in the "New York Times" bestselling Forerunners series, it is the last years of the Forerunner empire and chaos rules. The Flood a horrifying shape-changing parasite has arrived in force, aided by unexpected allies. Internal strife within the ecumene has desperately weakened Forerunner defenses.
Too little, too late, the legal rate of Juridicals is only now investigating possible crimes by the Master Builder and others. Evidence-gathering agents known collectively as Catalog have been dispatched to collect testimony from the Librarian and "both" Didacts: the Ur-Didact, treacherously abandoned in a Flood-infested system, and the Bornstellar Didact, who accompanies the Librarian as she preserves specimens against the dire possibility of Halo extermination.
Facing the imminent collapse of their civilization, the Librarian and the Ur-Didact reveal what they know about the relationship between the long-vanished Precursors and the Flood.
The Precursors created many technological species, including humanity and the Forerunners. But the roots of the Flood may be found in an act of enormous barbarity, carried out beyond our galaxy ten million years before...
Because of that barbarism, a greater evil looms. Only the Ur-Didact and the Librarian--husband and wife pushed into desperate conflict--hold the keys to a solution.
Facing the consequences of a mythic tragedy, one of them must now commit the greatest atrocity of all time to prevent an insane evil from dominating the entire universe.
Based on the universe and characters from the multimillion copy selling Xbox video games, "Halo: Silentium" completes a trilogy set in the pre-Halo universe, and sets the stage for the next hotly anticipated Halo game.
MacMillan Audio, 9781427229083, 6pp.
Publication Date: April 23, 2013
About the Author
GREG BEAR is the author of more than thirty books of science fiction and fantasy, including "Hull Zero Three," "City at the End of Time," "Eon," "Moving Mars," "Mariposa," and "Quantico. "He is married to Astrid Anderson Bear and is the father of Erik and Alexandra. Awarded two Hugos and five Nebulas for his fiction, one of two authors to win a Nebula in every category, Bear has been called the "Best working writer of hard science fiction" by "The Ultimate Encyclopedia of Science Fiction." His stories have been collected into an omnibus volume by Tor Books. Bear has served on political and scientific action committees and has advised both government agencies and corporations on issues ranging from national security to private aerospace ventures to new media and video game development. His recent endeavors include a long-term collaboration with Neal Stephenson and the Subutai Corporation on "The Mongoliad," an interactive serial novel available on multiple platforms, including iPhone, iPad, and Kindle. Euan Morton's narration credits include Christopher Moore's "Fool "and "Sacre Bleu," Neil Gaiman's "Stories," Eoin Colfer's "Benny "books, and Frank Herbert's "Dune "and "Chapterhouse Dune." Morton's breakthrough role was appearing as Boy George in the musical "Taboo," which earned him a Laurence Olivier Award nomination. He reprised the role on Broadway, earning Tony, Drama Desk, Outer Critics Circle and Drama League Award nominations, as well as the Theatre World Award (for Outstanding Broadway Debut). Morton's other stage performances include "Leaves of Glass, Sondheim on Sondheim," and "Cyrano De Bergerac." He lives in New York City and Arlington, Virginia.
or
Not Currently Available for Direct Purchase