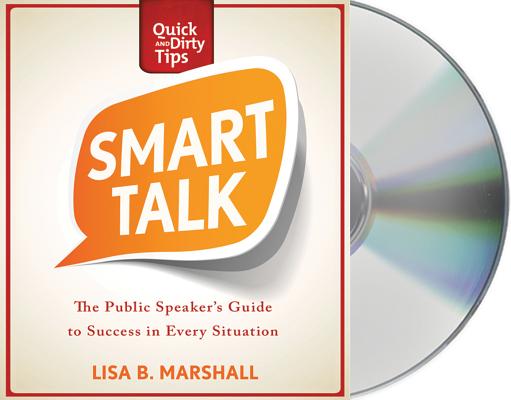 Smart Talk (Compact Disc)
The Public Speaker's Guide to Professional Success
MacMillan Audio, 9781427229731
Publication Date: January 22, 2013
Other Editions of This Title:
Digital Audiobook (1/21/2013)
Paperback (1/22/2013)
Other (1/1/2013)
* Individual store prices may vary.
Description
- Have you ever been put on the spot and kicked yourself later for not having a substantial, confident response?
- Have you ever lost out on a promotion because you didn't get along with your colleagues or boss?
- Have you ever blanked when delivering a speech or a presentation?
Saying the right thing isn't just about feeling comfortable. It's also essential for building successful relationships, getting ahead at work, and increasing your income. To get what you want, you have to know how to ask for it, how to negotiate, how to react.
That's where Lisa Marshall's audiobook comes in.
With proven strategies and practical action plans, "Smart Talk" will help you resolve conflicts, strengthen your natural charisma, and master the art of persuasion. Never again will you dread a holiday party or be rendered speechless at a business meeting. Backed by solid research and written in an engaging narrative style with a warm sense of humor, communication expert Lisa B. Marshall translates her wealth of experience into practical, fresh advice to help you navigate any complex situation, and achieve professional success.
About the Author
Lisa B. Marshall is a communication strategist, author, and professional speaker who has been helping organizations improve productivity by honing their internal and external communication skills for over a decade. Her award-winning podcast, The "Public Speaker's Quick and Dirty Tips for Improving Your Communication Skills," has earned nearly 7 million downloads since 2009! Lisa has been featured on CBS Money Watch, Ragan.com, Woman's Day, and many other media outlets. Her clients include Roche, Genentech, The American Heart Association, Merck, Exxon Mobile, Harvard, and Stanford, just to name a few. Lisa produces a daily business newsletter, "Communication Success, "for the Hewlett-Packard ePrint Center, which reaches up to 500 million enterprise printers globally in three languages. Lisa is also the author (and reader) of the audiobook "The Public Speaker's Guide to Ace Your Interview. "She holds a master's degree in interpersonal and organizational communication from the State University of New York. She lives near Philadelphia with her husband and two children.
Praise For Smart Talk: The Public Speaker's Guide to Professional Success…
"Lisa Marshall, reading her idea-packed guide with charm and clarity, goes well beyond the topic of giving speeches in this breezy, fast moving audiobook…she engages her listeners with her laid-back earnestness and frequent invitations to practice these techniques, quiz themselves, and put her suggestions into practice…her writing and speaking have the humanity needed to make listeners want to devour this material and take their communication skills to the next level." – Audiofile Magazine
"The author narrates with a strong voice and conversational style and uses appropriate pauses to stand in for pacing in the written text. Occasional humor and engaging scenarios are delivered in a personal manner. This title would be a good addition to self-help collections in college and public libraries." – Library Journal
or
Not Currently Available for Direct Purchase