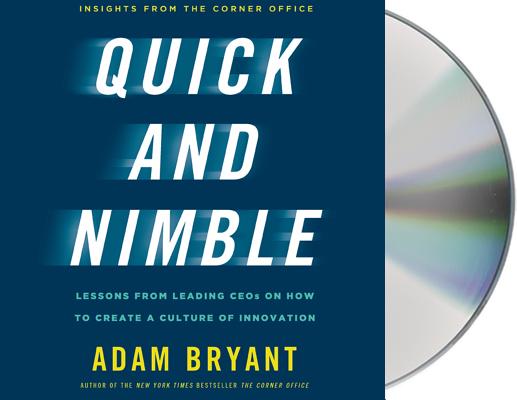 Quick and Nimble (CD-Audio)
Lessons from Leading CEOs on How to Create a Culture of Innovation - Insights from The Corner Office
Macmillan Audio, 9781427236234
Publication Date: January 7, 2014
* Individual store prices may vary.
Description
More than two hundred CEOs reveal their candid insights on how to build and foster a corporate culture that encourages innovation and drives results
In Quick and Nimble, Adam Bryant draws on interviews with more than two hundred CEOs to offer business leaders the wisdom and guidance to move an organization faster, to be quick and nimble, and to rekindle the whatever-it-takes collective spark of a start-up, all with the goal of innovating and thriving in a relentlessly challenging global economy. By analyzing the lessons that these leaders have shared in his regular "Corner Office" feature in The New York Times, Bryant has identified the biggest drivers of corporate culture, bringing them to life with real-world examples that reflect this hard-earned wisdom.
These men and women—whose ranks include Jeff Weiner of LinkedIn, Tony Hsieh of Zappos, Angie Hicks of Angie's List, Steve Case of Revolution (and formerly AOL), and Amy Gutmann of the University of Pennsylvania—offer useful insights and strategies for creating a corporate culture of innovation and building a high-performing organization that unleashes the passion and energy of its employees.
As the world shifts to more of a knowledge economy, the winners will be companies that can attract and retain the best and brightest employees by creating an environment where they can grow, contribute, and feel rewarded. Through the wisdom of these leading chief executives, Quick and Nimble offers a keen understanding of the forces that shape corporate culture and a clear road map to bring success and energy to any organization.
About the Author
Adam Bryant
is the author of the
New York Times
bestseller
The Corner Office: Indispensable and Unexpected Lessons from CEOs on How to Lead and Succeed
. He writes the popular "Corner Office" feature in
The New York Times
's business section and has served as the newspaper's senior editor for features, deputy national editor, and deputy business editor. He was previously a senior writer and business editor at
Newsweek
. He and his family live in New York City.
Jeff Gurner is a voice, stage and screen actor.  He has recorded hundreds of radio and television commercials, video games, and is an award winning audiobook narrator. He is best known for his narration of Patrick Lee and to Karen Miller's The Star Wars Clone Wars series and works by Mark Sullivan and Terry Francona. AudioFile magazine praised Jeff''s "deep, compelling voice and well-acted presentation" and awarded him a 2006 AudioFile Earphones Award for Jennifer Egan's The Keep.
Gurner's theater credits include The Lion King on Broadway, Guys and Dolls, Harold and Maude: The Musical, and A Christmas Story. Television credits include The Good Wife, Mercy, and Law & Order.
Praise For Quick and Nimble: Lessons from Leading CEOs on How to Create a Culture of Innovation - Insights from The Corner Office…
"Bryant writes the Corner Office column for the New York Times, where he interviews CEOs every week for their insights about managing people and leading companies. Their wisdom on building innovative cultures is collected here. Far too many leadership books rely on the knowledge of consultants or on years-old stories to build their case; this book gets its ideas from the people actually running companies today." —Washington Post
"In an increasingly competitive and dynamic economy, every organization is charged with building a culture that supports innovation...Bryant offers an expert guided tour through the minds of the world's most innovative CEOs, sharing insights that are both enlightening and immensely practical." —Adam Grant, The Huffington Post
"Quick and Nimble offers idea after idea on how to create a culture of innovation. It is full of workable ways to nurture critical thinking and create the chaos needed for innovation to thrive. The author's dedicated research proves that leaders who intentionally make culture a key element of their strategy pave the way for organizational success." —T+D Magazine
"Reams of practical advice for and from business leaders most--thankfully--with a human, caring touch." —Kirkus Reviews
"Leaders such as the editor-in-chief of Teen Vogue, the CEO of JetBlue, chef Mario Batali ... provide thoughts on leadership, management, and innovation...The big names lend the book a certain flair...[Bryant] breaks down the important elements of a successful corporate culture, and then describes the leadership strategies to build on it." —Publishers Weekly
"Adam Bryant gives us yet another welcome opportunity to listen in on his living laboratory of leadership conversations. In Quick and Nimble, he orchestrates discussion on the idea--and its practical application--that culture is not in 'support' of strategy; it is strategy. Bryant's gift for asking incisive questions of remarkable people, and translating their insights into crisp and lucid prose, makes for joyful reading indeed--smart, provocative, and immensely useful!" —Jim Collins, author of Good to Great and coauthor of Great by Choice
"Quick and Nimble is the definitive book on organizational culture. Adam Bryant offers an expert guided tour through the minds of the world's most innovative CEOs, sharing insights that are both enlightening and immensely practical. This is a book that every leader needs to read--and reread." —Adam Grant, professor of management, Wharton School, University of Pennsylvania, and bestselling author of Give and Take
"Adam Bryant identifies the most important challenge facing business leaders today: how to achieve innovation at scale by building a culture that will marry the energy of a startup with the discipline of a veteran organization. In Quick and Nimble, he has assembled an all-star team of CEOs to share--in their own words--how they have taken their companies to the next level." —Eric Ries, bestselling author of The Lean Startup
"In today's nonstop turbulence, innovation is critical to success. In Quick and Nimble, Adam Bryant distills important lessons from a range of leading CEOs about how to create and sustain a productive culture that nurtures not only innovation but also respect, engagement, and teamwork for everyone involved. And he does so in a lively, grounded voice that resonates with experience and perspective. A 'must read' for any leader serious about the company he or she is building and the difference it makes in the world." —Nancy F. Koehn, James Robison Professor of Business Administration, Harvard Business School
"In Quick and Nimble, Adam Bryant unlocks the secret to creating and sustaining a culture of innovation: Leadership. Bryant has translated his in-depth interviews with innovation leaders into lessons on how to build a creative, open, and ultimately innovative culture that will enable every organization to thrive and grow." —Bill George, professor, Harvard Business School, and former chair and CEO, Medtronic
or
Not Currently Available for Direct Purchase