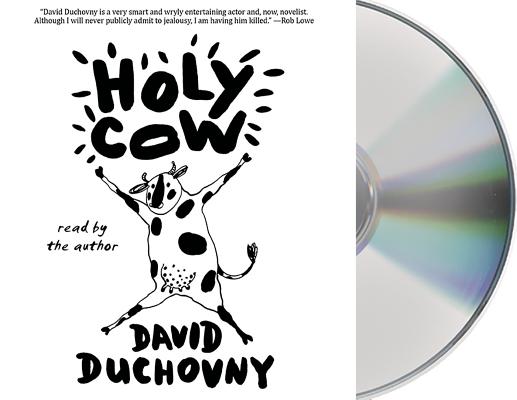 Holy Cow
A Novel
CD-Audio

* Individual store prices may vary.
Other Editions of This Title:
Digital Audiobook (2/2/2015)
Paperback (4/5/2016)
Hardcover (2/3/2015)
Description
A rollicking, globe-trotting adventure with a twist: a four-legged heroine you won't soon forget

Elsie Bovary is a cow, and a pretty happy one at that—her long, lazy days are spent eating, napping, and chatting with her best friend, Mallory. One night, Elsie and Mallory sneak out of their pasture; but while Mallory is interested in flirting with the neighboring bulls, Elsie finds herself drawn to the farmhouse. Through the window, she sees the farmer's family gathered around a bright Box God—and what the Box God reveals about something called an "industrial meat farm" shakes Elsie's understanding of her world to its core.
There's only one solution: escape to a better, safer world. And so a motley crew is formed: Elsie; Jerry—excuse me, Shalom—a cranky, Torah-reading pig who's recently converted to Judaism; and Tom, a suave (in his own mind, at least) turkey who can't fly, but who can work an iPhone with his beak. Toting stolen passports and slapdash human disguises, they head for the airport.
Elsie is our wise-cracking, pop-culture-reference-dropping, slyly witty narrator; Tom—who does eventually learn to fly (sort of)—dispenses psychiatric advice in a fake German accent; and Shalom, rejected by his adopted people in Jerusalem, ends up unexpectedly uniting Israelis and Palestinians. David Duchovny's charismatic creatures point the way toward a mutual understanding and acceptance that the world desperately needs.
Praise For Holy Cow: A Novel…
"[Duchovny's] zany, madcap first novel, Holy Cow . . . is a seriously entertaining fable that doesn't take itself too seriously . . Duchovny is a witty writer, and he's especially good at conjuring these oddball voices." —John Wilwol, The Washington Post

"For one of the most engaging allegorial tales since Animal Farm, look no further than the surprising debut from Hollywood star Duchovny. His tale of Elsie, an American cow who learns the truth about her fate, is filed with humor and relevance." —Time Out, Critics' pick

"Who knew a cow's view of the world was so funny yet so honest and true? Holy Cow is silly and fun from the opening page." —Jeff Ayers, The Denver Post

"This is the best cow-based theological odyssey of all time. A hybrid of Joyce's Ulysses and beef. Elsie Bovary is a modern day Damona." —Craig Ferguson

"David Duchovny is a very smart and wryly entertaining actor, and now, novelist. Although I will never publicly admit to jealousy, I am having him killed." —Rob Lowe

"David Duchovny's witty invention of the charming, brave and smart-mouthed Elsie Bovary guarantees that his Swiftian fable about a cow, a pig and a turkey's hilarious and moving farm-break to save themselves from the cruelty of human consumption is a literary feast no reader can resist." —Rafael Yglesias, author of A Happy Marriage

"*Starred review* "[Duchovny's] debut novel is a charming fable about dignity and tolerance, complete with anthropomorphized animals and replete with puns, double-entendres and sophisticated humor . . . Between the book's sly humor, gently humanist (animalist?) message and wry illustrations by Natalya Balnova, this is a pseudo-children's book that smart adults should greatly enjoy. An offbeat adventure that reads like Bill Willingham's Fables directed by Ralph Bakshi." —Kirkus Reviews
Macmillan Audio, 9781427261717
Publication Date: February 3, 2015
About the Author
David Duchovny is a television, stage, and screen actor, as well as a singer-songwriter, screenwriter, and director. He lives in New York and Los Angeles.

David Duchovny is a television, stage, and screen actor, as well as a singer-songwriter, screenwriter, and director. He lives in New York and Los Angeles.
or
Not Currently Available for Direct Purchase