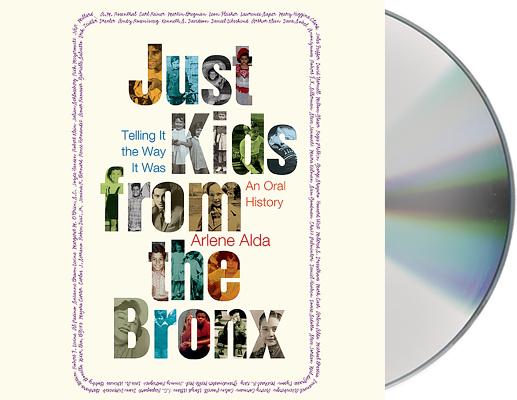 Just Kids from the Bronx (Compact Disc)
Telling It the Way It Was: An Oral History
MacMillan Audio, 9781427262363
Publication Date: March 3, 2015
* Individual store prices may vary.
Description
A touching and provocative collection of autobiographical anecdotes that evoke the history of one of America's most influential boroughs--the Bronx--through some of its many success stories
The vivid oral histories in Arlene Alda's Just Kids from the Bronx reveal what it was like to grow up in the place that bred the influencers in just about every field of endeavor today. The Bronx is where Michael Kay, the New York Yankees' play-by-play broadcaster, first experienced baseball, where J. Crew's Millard (Mickey) Drexler got his street smarts and his first jobs, where Neil deGrasse Tyson and Dava Sobel were urged to pursue science and where music-making inspired hip hop's Grandmaster Melle Mel to change the world of music forever.
The parks, the pick-up games, the tough and tender mothers, the politics, the gangs, the food--for people who grew up in the Bronx, childhood recollections are fresh. Arlene Alda's own Bronx memories were a jumping-off point from which to reminisce with a nun, a police officer, an urban planner, and with Al Pacino, Mary Higgins Clark, Carl Reiner, Colin Powell, Maira Kalman, Bobby Bonilla, and many other leading artists, athletes, scientists and entrepreneurs--experiences spanning six decades of Bronx living. Alda then arranged these pieces of the past, the mornings on the Grand Concourse and afternoons in the halls of Bronx Science, into one great collective story, a film-like portrait of the Bronx from the early twentieth century until today.
About the Author
Arlene Alda (born Arlene Weiss in the Bronx, NY) graduated Phi Beta Kappa from Hunter College, received a Fulbright Scholarship to study clarinet in Germany, and became a clarinetist in the Houston Symphony, under Leopold Stokowski. She then married the actor Alan Alda and after their youngest daughter started school, Alda pursued her interests in photography and in writing. She is now the author of 17 books, including bestselling, award-winning children's titles as well as books for adults.