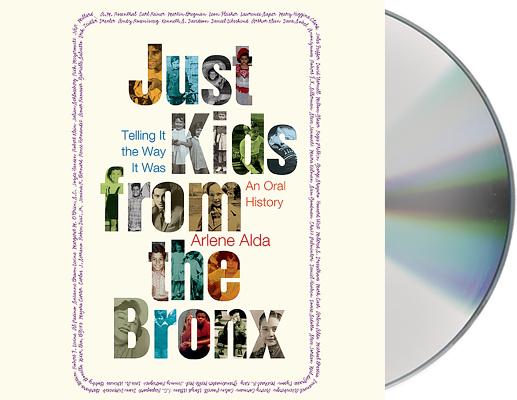 Just Kids from the Bronx (CD-Audio)
Telling It the Way It Was: An Oral History
Macmillan Audio, 9781427262363
Publication Date: March 3, 2015
Other Editions of This Title:
Digital Audiobook (3/2/2015)
Hardcover (3/3/2015)
* Individual store prices may vary.
Description
"The numerous voices presenting these oral histories are flowing, velvety, glib, humorous, and always passionate...This is an informative and heartwarming retrospective of life in the Bronx, in addition to an enlightening look at the changes in our society and culture." — Publishers Weekly, starred review

A touching and provocative collection of autobiographical anecdotes that evoke the history of one of America's most influential boroughs--the Bronx--through some of its many success stories
The vivid oral histories in Arlene Alda's Just Kids from the Bronx reveal what it was like to grow up in the place that bred the influencers in just about every field of endeavor today. The Bronx is where Michael Kay, the New York Yankees' play-by-play broadcaster, first experienced baseball, where J. Crew's Millard (Mickey) Drexler got his street smarts and his first jobs, where Neil deGrasse Tyson and Dava Sobel were urged to pursue science and where music-making inspired hip hop's Grandmaster Melle Mel to change the world of music forever.
The parks, the pick-up games, the tough and tender mothers, the politics, the gangs, the food--for people who grew up in the Bronx, childhood recollections are fresh. Arlene Alda's own Bronx memories were a jumping-off point from which to reminisce with a nun, a police officer, an urban planner, and with Al Pacino, Mary Higgins Clark, Carl Reiner, Colin Powell, Maira Kalman, Bobby Bonilla, and many other leading artists, athletes, scientists and entrepreneurs--experiences spanning six decades of Bronx living. Alda then arranged these pieces of the past, the mornings on the Grand Concourse and afternoons in the halls of Bronx Science, into one great collective story, a film-like portrait of the Bronx from the early twentieth century until today.
About the Author
Arlene Alda graduated Phi Beta Kappa from Hunter College, received a Fulbright Scholarship, and realized her dream of becoming a professional clarinetist, playing in the Houston Symphony under the baton of Leopold Stokowski. She switched careers when her children were young and became an award-winning photographer and author who has written nineteen books, including Just Kids from the Bronx. She is the mother of three daughters and the grandmother of eight. She and her husband, actor Alan Alda, live in New York City and Long Island.
Praise For Just Kids from the Bronx: Telling It the Way It Was: An Oral History…
"I was mesmerized reading about the childhoods of celebrities and leaders in fields from art to science, revealing the roots that launched their journeys from humble beginnings in the Bronx to extraordinary success. An eye-opener into what drives the creation of remarkable lives. I will long remember this wonderful book." —Walter Mischel, author of The Marshmallow Test: Mastering Self-Control, Professor of Psychology, Columbia University
"Among the wonders of Arlene Alda's wondrous book is the stunning quality of the storytelling. Just Kids from the Bronx is a Bronx tale, to be sure--a collective picture of a place characterized by citizen yearnings to be elsewhere and the glorious discoveries and self-discoveries that come with staying put. But the parts that go into this whole are equally rich as pieces of literature. Nearly every one of these offerings, including the author's own, is a little work of art, each contributor foraging for the meaning and the music of a life.The result is America in a borough--at once hopeful, dangerous, regenerative, tough, joyous, and in the end, beautiful." —Roger Rosenblatt, New York Times bestselling author of Making Toast and of The Boy Detective: A New York Childhood
or
Not Currently Available for Direct Purchase