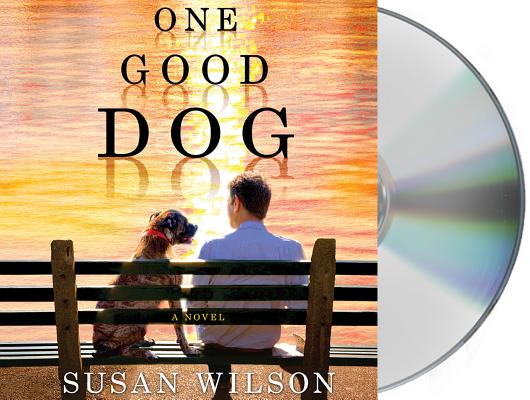 One Good Dog (CD-Audio)
A Novel
Macmillan Audio, 9781427277527
Publication Date: January 5, 2016
Other Editions of This Title:
Digital Audiobook (3/1/2010)
Paperback (4/16/2019)
Paperback (2/1/2011)
Mass Market (12/30/2014)
Compact Disc (3/2/2010)
Hardcover (3/2/2010)
Paperback (5/7/2013)
Prebound (2/1/2011)
* Individual store prices may vary.
Description
"One Good Dog is a wonderful novel: a moving, tender, and brilliantly crafted story about two fighters—one a man, one a dog— hoping to leave the fight behind, who ultimately find their salvation in each other. Susan Wilson's clear and unflinching style is perfectly suited for her story that strips away the trappings and toys we all hide behind, and exposes our essential need to give and accept love in order to thrive."—Garth Stein, New York Times bestselling author of The Art of Racing in the Rain
Adam March is a self-made "Master of the Universe." He has it all: the beautiful wife, the high-powered job, the glittering circle of friends. But there is a price to be paid for all these trappings, and the pressure is mounting—until the day Adam makes a fatal mistake. His assistant leaves him a message with three words:your sister called. What no one knows is that Adam's sister has been missing for decades. That she represents the excruciatingly painful past he has left behind. And that her absence has secretly tormented him all these years. When his assistant brushes off his request for an explanation in favor of her more pressing personal call, Adam loses it. And all hell breaks loose.
Adam is escorted from the building. He loses his job. He loses his wife. He loses the life he's worked so hard to achieve. He doesn't believe it is possible to sink any lower when he is assigned to work in a soup kitchen as a form of community service. But unbeknownst to Adam, this is where his life will intersect with Chance.
Chance is a mixed breed Pit Bull. He's been born and raised to fight and seldom leaves the dirty basement where he is kept between fights. But Chance is not a victim or a monster. It is Chance's unique spirit that helps him escape and puts him in the path of Adam.
What transpires is the story of one man, one dog, and how they save each other—in ways they never could have expected.
About the Author
Susan Wilson
is the bestselling author of books including
One Good Dog, Cameo Lake
and
Beauty
, a modern retelling of Beauty and the Beast, which was made into a CBS-TV movie. She lives on Martha's Vineyard.
Rick Adamson
has twenty years of experience in voiceovers, spoken word, acting, corporate sales training, and award-winning audiobook narration.  He is a Grammy nominee and an American Library Association award-winning narrator.  Most notably, his work includes reading for authors such as Bill Gates, Al Franken, O. Henry, and Susan Wilson, as well as
Fast Food Nation
,
The
Secret
, and
The Ransom of Red Chief.
 Adamson has done voiceovers
for many Fortune 500 companies such as
AT&T Labs, Pfizer, Merrill Lynch Online, Prudential Advisor,
and 
Tyco
. As a stage actor, he has performed both in NY theater and regional theater in productions such as
You're a Good Man, Charlie Brown, Annie
, and
Cat on a Hot Tin Roof.
Fred Berman is a five-time winner of the AudioFile Earphone Award for Audiobook Narration and the recipient of the 2013 Audie Award for narration in Spy the Lie. He has read a number of audiobooks for young listeners, including Judy Blume's Soupy Saturdays with The Pain & The Great One and Andrew Clements's The Last Holiday Concert. He has also narrated the audiobooks for Robert Kirkman's popular series, The Walking Dead.
Berman is an accomplished actor of both the stage and screen as well, performing on Broadway as Timon in The Lion King and off-Broadway in Hamlet, Twelfth Night, and King Lear. On television, Berman has had roles on NBC's hit series Smash as well as All My Children and Law and Order. He lives in New York City.
Praise For One Good Dog: A Novel…
"One Good Dog is a wonderful novel: a moving, tender, and brilliantly crafted story about two fighters--one a man, one a dog--hoping to leave the fight behind, who ultimately find their salvation in each other. Susan Wilson's clear and unflinching style is perfectly suited for her story that strips away the trappings and toys we all hide behind, and exposes our essential need to give and accept love in order to thrive." —Garth Stein, New York Times bestselling author of The Art of Racing in the Rain
"Working and writing with Cesar Millan has taught me that no dog is unredeemable, no matter how horrendous its past. Susan Wilson's evocative and deeply moving novel reminds us that even the most unlikely human can also find redemption, sometimes, with a little help from a canine friend." —Melissa Jo Peltier, New York Times bestselling co-author of Cesar's Way
"One Good Dog will make you cry, will make you laugh, will make you feel things more than you thought possible--and it will make you believe in second chances." —Augusten Burroughs
"One Good Dog is a wonderful novel of healing and redemption. Chance, the four-legged healer and redeemer, will linger in your mind long after the story is done." —Spencer Quinn, New York Times bestselling author of Dog On It
"ONE GOOD DOG EQUALS ONE GREAT BOOK!" —Rita Mae Brown
"Anybody who has ever loved a dog - or been "a pack of two," as Chance so aptly puts it - will love One Good Dog. This is the moving story of Adam March, a man who loses everything only to find something much greater, and it reminds us that it's animals that make us our most fully human. I hope Susan Wilson sits and stays - forever." —Lisa Scottoline
"Nowhere can we see the potential for our own redemption more clearly than in the eyes of our dog. Susan Wilson illustrates this truth poignantly and beautifully in this story of second chances." —Tami Hoag
"One Good Dog shows how animals teach us everything about hope, healing, and unconditional love. One Good Dog is a terrific book that held me from beginning to end!" —Iris Johansen
"One Good Dog tells the eloquent truth about a brave-hearted dog and a broken-hearted man, the mystical ways they rescue each other. I was so moved by Susan Wilson's writing: her understanding of the lost, in the language of the wild." —Luanne Rice
or
Not Currently Available for Direct Purchase