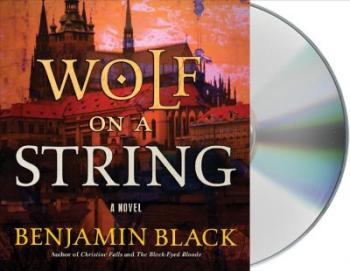 Wolf on a String
A Novel
CD-Audio

* Individual store prices may vary.
Other Editions of This Title:
Digital Audiobook (6/5/2017)
Paperback (6/5/2018)
Hardcover (6/6/2017)
Hardcover, Large Print (6/7/2017)
Description
Bestselling author Benjamin Black turns his eye to sixteenth century Prague and a story of murder, magic and the dark art of wielding extraordinary power/

"...outstandingly read by Simon Vance, whose versatility with voices and intonations brings the cast to life." — Fran Wood, NJ.com

Christian Stern, an ambitious young scholar and alchemist, arrives in Prague in the bitter winter of 1599, intent on making his fortune at the court of the Holy Roman Emperor, the eccentric Rudolf II. The night of his arrival, drunk and lost, Christian stumbles upon the body of a young woman in Golden Lane, an alley hard by Rudolf's great castle. Dressed in a velvet gown, wearing a large gold medallion around her neck, the woman is clearly well-born—or was, for her throat has been slashed.

A lesser man would smell danger, but Christian is determined to follow his fortunes wherever they may lead. He quickly finds himself entangled in the machinations of several ruthless courtiers, and before long he comes to the attention of the Emperor himself. Rudolf, deciding that Christian is that rare thing—a person he can trust—sets him the task of solving the mystery of the woman's murder. But Christian soon realizes that he has blundered into the midst of a power struggle that threatens to subvert the throne itself. And as he gets ever nearer to the truth of what happened that night in Golden Lane, he finally sees that his own life is in grave danger.

From the spectacularly inventive Benjamin Black, Wolf on a String is a historical crime audiobook that delivers both a mesmerizing portrait of a lost world and a riveting tale of intrigue and suspense.
Praise For Wolf on a String: A Novel…
"It's outstandingly read by Simon Vance, whose versatility with voices and intonations brings the cast to life." - NJ.com

"Black's richly layered storytelling is vivid and unforgettable." -BookPage

"John Banville's novel Kepler was published in 1981. Now, using the pen name he has adopted for his mystery novels, he returns to [an] exciting era when science and superstition were battling for supremacy.... The ornate style of [the] narrative suits both this rich historical period and the courtly language of Prague, this 'city of masks and make-believe.' "–The New York Times Book Review

"Black [is] a master of high-class crime fiction, literary noir in the tradition of Georges Simenon and Raymond Chandler…. In characteristically gorgeous prose, he conjures a wintry world of opportunists and occultists, dwarves and hunchbacks, wolves and shadowy black-winged beasts….The marvelously evoked 'city of masks and make-believe' is the [novel's] great pleasure." –The Guardian

"Immensely enjoyable.... A gem of a book, presented without pretension but with the literary flair that Banville/Black brings to all of his books." –St. Louis Post-Dispatch

"It's Prague in the late 1500s, where the eccentric Rudolf II rules the Holy Roman Empire.... As you'd expect from a Man Booker winner like Banville, [this] plunge into palace intrigue and power struggles is spirited, vivid, and soulful." –The Seattle Times

"Black's 16th century murder mystery is rife with twists and turns, and his characters' dialogue convincingly captures the history and social issues of the period."–NJ.com

"If the Benjamin Black novels are, in the John Banville corpus, the equivalent of Graham Greene's 'entertainments,' [Wolf on a String] must go down as one of the most entertaining…. The interplay of such twinned contraries—stars and darkness, snow and stone, desire and destruction, Black and Banville; each entity illuminating the other—also supply the sparkling style and steely themes of the engrossing, wide-ranging, sneakily ambitious work." –The Irish Times

"A swirling kaleidoscope of intrigue, art, blood, sex and magic…. Cleverly, and often amusingly, Black introduces several real characters to his fictional narrative…. A stirring, captivating and perfectly enjoyable read." –Independent (Ireland)

"Black displays his mastery of yet another mystery sub-genre in this brooding, atmospheric whodunit set in 16th-century Prague…. Superior prose complements the intricate plot."–Publishers Weekly (starred review)

"Rich, expansive…. [A] dark, vivid mural of Prague at the turn of the 16th century." –Kirkus Reviews
Macmillan Audio, 9781427279583
Publication Date: June 6, 2017
About the Author
Benjamin Black
is the pen name of the Man Booker Prize-winning novelist John Banville. Black's books include
The Black-Eyed Blonde, Christine Falls, The Silver Swan,
among others
.
He lives in Dublin.
Simon Vance is the critically acclaimed narrator of approximately 400 audiobooks, winner of 27 AudioFile Earphones Awards, and a 12-time Audie Award-winner. He won an Audie in 2006 in the category of Science Fiction and was named the 2011 Best Voice in Biography and History and in 2010 Best Voice in Fiction by AudioFile magazine. 

 Vance has been a narrator for the past 25 years, and also worked for many years as a BBC Radio presenter and newsreader in London.  Some of his best-selling and most praised audiobook performances include Stieg Larsson's The Girl with the Dragon Tattoo, Hilary Mantel's Bring Up the Bodies (an Audie award-winner), Ian Fleming's Casino Royale, Oscar Wilde's The Picture of Dorian Gray, Patrick O'Brian's Master and Commander series (all 21 titles), the new productions of Frank Herbert's original Dune series, and Rob Gifford's China Road (an AudioFile 2007 Book of the Year). Vance lives near San Francisco with his wife and two sons.
or
Not Currently Available for Direct Purchase