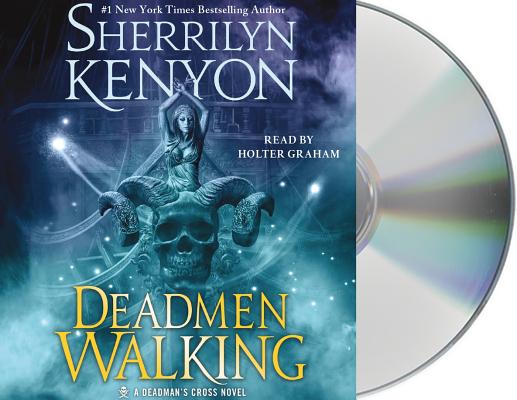 Deadmen Walking (CD-Audio)
A Deadman's Cross Novel
Macmillan Audio, 9781427287199
Publication Date: May 9, 2017
Other Editions of This Title:
Digital Audiobook (5/8/2017)
Mass Market (3/27/2018)
Hardcover (5/9/2017)
* Individual store prices may vary.
Description
#1 New York Times bestselling author Sherrilyn Kenyon debuts a sweeping new epic saga sure to appeal to her millions of fans!
Deadmen tell their tales . . .
To catch evil, it takes evil. Enter Devyl Bane—an ancient dark warlord returned to the human realm as one of the most notorious pirates in the New World. A man of many secrets, Bane makes a pact with Thorn—an immortal charged with securing the worst creations the ancient gods ever released into our world. Those powers have been imprisoned for eons behind enchanted gates . . . gates that are beginning to buckle. At Thorn's behest, Bane takes command of a crew of Deadmen and, together, they are humanity's last hope to restore the gates and return the damned to their hell realms.
But things are never so simple. And one of Bane's biggest problems is the ship they sail upon. For the Sea Witch isn't just a vessel, she's also a woman born of an ancient people he wronged and who in turn wronged him during a centuries long war between their two races—a woman who is also sister to their primary target. Now Marcelina, the Sea Witch, must choose. Either she remains loyal to her evil sister and almost extinct race against Bane and his cause, and watches humanity fall, or she puts faith in an enemy who has already betrayed her. Her people over the totality of humanity—let's hope Bane can sway her favor.
Deadmen Walking is the first historical fantasy title in New York Times bestselling author Sherrilyn Kenyon's Deadman's Cross series. It is a tale of passion and loss, emotions that wound and heal…and ultimate redemption
About the Author
New York Times
bestselling author Sherrilyn Kenyon is a regular in the #1 spot. This extraordinary bestseller continues to top every genre in which she writes, including manga and graphic novels. More than 70 million copies of her books are in print in more than one hundred countries. Her current series include The Dark-Hunters, The League, Deadman's Cross, Chronicles of Nick, Hellchasers, Mikrochasers, and The Lords of Avalon. Her Chronicles of Nick and Dark-Hunter series are soon to be major motion pictures.
Holter Graham, winner of AudioFile's 2008 Best Voice in Science Fiction & Fantasy for Sherrilyn Kenyon's Acheron, is a stage, television, and screen actor. He has recorded numerous audiobooks, including much of Sherrilyn Kenyon's bestselling Dark-Hunter series. The winner of multiple AudioFile Earphones Awards, he has also read works by Scott Turow, Dean Koontz, C. J. Box, and Stephen Frey.
 His film credits include Fly Away Home, Maximum Overdrive, Hairspray, and The Diversion, a short film which he acted in and produced. On television, he has appeared in Army Wives, Damages, As The World Turns, Rescue Me, Law & Order and New York Undercover. He received a B.A. from Skidmore College and an M.F.A. from Vermont College.
Praise For Deadmen Walking: A Deadman's Cross Novel…
"Graham draws on a seemingly limitless supply of different, growly voices to give life to the members of a demon-hunting crew of undead pirates. ...he easily shifts register and tone, pulling out lilting accents and softer voices for more innocent and vulnerable characters. Overall, his performance is strongest in the passages of dialogue, where his talent with accents gives variety to the interactions." -AudioFile
Praise for Sherrilyn Kenyon
"Kenyon (Born of Legend) puts the lie to the old adage "Dead men tell no tales" in the jam-packed, appealing first book of her Deadman's Cross historical fantasy series." —Publishers Weekly on Deadmen Walking
"Kenyon's writing is brisk, ironic and relentless imaginative." —Boston Globe
"Arguably the most in-demand and prolific authors in America these days." —Publishers Weekly
"[An] engaging read." —Entertainment Weekly on Devil May Cry