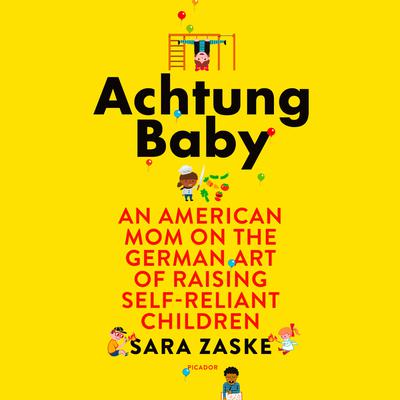 Achtung Baby (Digital Audiobook)
An American Mom on the German Art of Raising Self-Reliant Children
Publication Date: January 1, 2018
Other Editions of This Title:
Paperback (12/31/2018)
Hardcover (1/2/2018)
Description
"[Sarah Zaske] reads her fascinating book on contemporary German parenting with friendly confidence and a delightful curiosity about her discoveries while raising two young children in Berlin...Zaske's gift for narrative and her keen observations about German and American parenting make this a refreshing, eye-opening audio for those raising young children" — AudioFile Magazine

This Audiobook Provides an Entertaining, Enlightening Look at the Art of Raising Self-Reliant, Independent Children Based on One American Mom's Experiences in Germany

When Sara Zaske moved from Oregon to Berlin with her husband and toddler, she knew the transition would be challenging, especially when she became pregnant with her second child. She was surprised to discover that German parents give their children a great deal of freedom—much more than Americans. In Berlin, kids walk to school by themselves, ride the subway alone, cut food with sharp knives, and even play with fire. German parents did not share her fears, and their children were thriving. Was she doing the opposite of what she intended, which was to raise capable children? Why was parenting culture so different in the States?

Through her own family's often funny experiences as well as interviews with other parents, teachers, and experts, Zaske shares the many unexpected parenting lessons she learned from living in Germany. Achtung Baby reveals that today's Germans know something that American parents don't (or have perhaps forgotten) about raising kids with "selbstandigkeit" (self-reliance), and provides practical examples American parents can use to give their own children the freedom they need to grow into responsible, independent adults.

This instructive audiobook is perfect for new parents and anyone else interested in how different cultures approach child rearing.