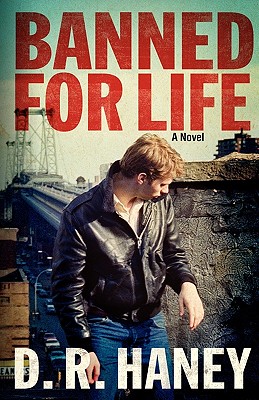 Banned for Life
Paperback

* Individual store prices may vary.
Description
For almost two decades, rumors have swirled around Jim Cassady, the quasi-legendary punk-rock frontman who disappeared without a trace after his girlfriend's apparent suicide. Though largely written off as dead, some claim to have had brushes with Cassady, now said to be homeless and bumming change on the streets of his native Los Angeles. Intrigued, Jason Maddox, a would-be filmmaker and Cassady fan, decides to investigate. But the man he eventually finds and befriends is damaged in ways he could never have imagined, and Jason's own life begins to unravel as he tries to save the hapless Jim Cassady from himself. A mystery wrapped in a rollercoaster account of the American pop-culture underbelly, Banned for Life has been cited as a "cult-favorite" by the New York Journal of Books, with a reputation that continues to expand. "... Banned for Life] follows Jason Maddox's serio-comic adventures in the underground punk scene, stretching beyond mosh-pit mayhem and barroom brawls to explore death and obsession and purpose. The author zigzags confidently between a resonant coming-of-age tale in North Carolina, la vie boh me in hardscrabble New York, and a tempestuous L.A. love affair...even readers ambivalent to punk will be drawn in by the peculiarly irresistible voice of Jason..." - The Nervous Breakdown "...this book reaches across the punk divide... it] captures nostalgia nicely, without whining about the good old days." - Razorcake "Haney's characters are super realistic. They're nuanced and interesting and you actually care about what's going to happen to them...the writing was so spot on that I often thought this book was less made up and more a fictionalized version of the author's life."- Maximum RocknRoll "Every once in a while, I read a book that I think everyone else should read. A book that lovers of all genres can enjoy. A book that I wish I could buy for every single non-reader out there to prove to them what they are missing. Banned for Life] is one of those books...once I started, I knew I was not going to want it to end. It called to me every time I put it down. It begged. It screamed. I savored every moment of it, and I dreaded reading that final sentence." - The Next Best Book Blog "... a] powerful and affecting novel that hits all the right notes." - Largehearted Boy "...an engaging page turner...anyone who has an interest in the American punk scene of the 1980s will find plenty in this book to latch onto." - Big Wheel "Banned For Life is about punk rock? Sure, just like Moby-Dick is about whales...like Melville, D. R. Haney has created a world so rich in detail, so authentic, so damned cool, you want to take up a harpoon-or, in this case, a guitar-and join the fray. Banned for Life is literary fiction at its best..." - Greg Olear, author of Totally Killer and Fathermucker "....pitch-perfect, laugh-out-loud funny, and heartrendingly sad...a eulogy to dead friends and those who died trying to transform personal pain into something extraordinary... this] is one of those rare books that tells the story of a generation." - Chris Kraus, author of I Love Dick, Aliens & Anorexia, Torpor
Delancey Street Press, 9781427624994, 416pp.
Publication Date: May 5, 2009