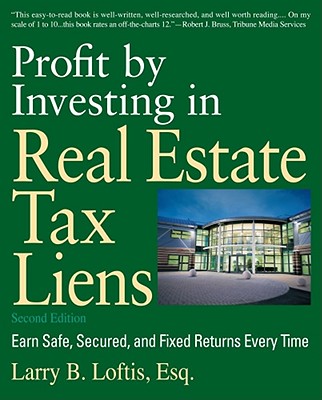 Profit by Investing in Real Estate Tax Liens
Earn Safe, Secured, and Fixed Returns Every Time
Paperback

* Individual store prices may vary.
Description
Profit by Investing in Real Estate Tax Liens introduces an investment alternative that is safe, secured by real estate, administered by the government, involves no brokers, is enforced by state law, and gives fixed returns.

Selling tax liens or tax deeds (depending on the state) are the two ways that counties across the country bring delinquent property taxes up-to-date. This investment is one of the least publicized and safest ways of investing in real estate, designed to give the investor either a fixed return, as in the case of investing in tax liens, or a property for 10 to 50 cents on the dollar, as in the case of a tax deed sale. In most situations, the property is ultimately transferred free of any liens, such as mortgages.

Profit by Investing in Real Estate Tax Liens also debunks the common myth that tax delinquent properties are run-down and shows that liens exist on every type of property. Author Larry Loftis, an attorney and active investor, has purchased liens on properties owned by Julius "Dr. J" Erving, Hector "Macho" Camacho (world champion boxer), Chase Manhattan Bank, LaSalle National Bank, and even a building whose major tenant was the local sheriff's department!

In this authoritative guide, Loftis helps investors avoid the pitfalls while answering all the key questions they need to consider:
* What's the difference between investing in tax liens and tax deeds?
* How does an investor go about bidding at tax sales? And what is the process?
* What are the different requirements in each state?
* Where are the greatest risks in this kind of real estate investing?

For investors eager to get started, Loftis's action plan provides details on the next steps to take, while real-life examples in every chapter bring the concepts down to earth.

The Second Edition is updated and revised including:

*A new section on using the internet to purchase liens across the country.

*New and updated information for tax and other laws affecting the purchasing of tax liens.

*Updated forms, contracts, and sample letters.
Kaplan Publishing, 9781427795953, 240pp.
Publication Date: November 6, 2007
About the Author
Over the years, real estate expert and author Larry Loftis has bought and sold millions of dollars worth of real estate investments, including foreclosures, lease options, tax liens and deeds, resort properties, and multi-family housing. A Florida attorney, he has published articles in scholarly legal journals such as the National Law Journal, the Florida Bar Journal, and law reviews of the University of Florida, University of Georgia, and Suffolk University. He has also written for Florida Banking and been quoted in, and published by, The Wall Street Journal. Loftis holds both his B.A. and J.D. degrees from the University of Florida.
or
Not Currently Available for Direct Purchase