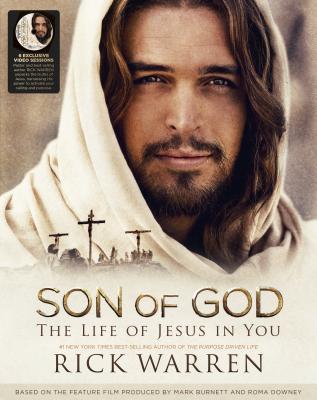 Son of God Bible Study Kit (Paperback)
The Life of Jesus in You [With DVD]
B&H Publishing Group, 9781430035299, 64pp.
Publication Date: February 15, 2014
* Individual store prices may vary.
Description
What would happen if you applied the lessons from events in Jesus' life--temptation, suffering, death, resurrection--to your own? Would you come to know Him more intimately and with a greater understanding of your purpose? Would you embody more completely the mission, love, and mind of Jesus? This DVD small group study, based on producers Mark Burnett and Roma Downey's major theatrical release, "Son of God," features "New York Times" bestselling author Pastor Rick Warren as he explains how you can find your purpose in studying the life of Jesus. "Leader Kit" includes a "Member Book" and one DVD with clips from the movie with introductions and follow-up by Rick Warren including exercises, prayers, discussion questions, and more. (6 sessions)
Session titles: (with corresponding clips from the movie):
Jesus' baptism and your baptism (Rom.6:3-4; Gal. 3:27; Col. 2:12)
Jesus' temptation and your temptation (Heb. 2:18)
Jesus' suffering and your suffering (2 Cor. 1:5,8-9; 2 Cor. 4:10; 1 Peter 2:21; 4:1,13)
Jesus' death and your death (Gal. 2:20: "I am crucified with Christ . . .")
Jesus' resurrection and your resurrection (1 Cor.15:23,42-43; 1 Thess. 4:17)
Jesus' ministry and your ministry (2 Cor. 5:18; John 17:18; John 20:21; Acts 1:18)
About the Author
Rick Warren founded Saddleback Church in Lake Forest, CA, in 1980 with one family. Today it is an evangelical congregation averaging 25,000 weekly attendees. He also leads the Purpose Driven Network of churches, a global coalition of congregations in 162 countries. He is the author of the international bestselling books "The Purpose Driven Life" and "The Purpose Driven Church," and bestselling church campaigns "40 Days of Purpose" and "40 Days in the Word."
or
Not Currently Available for Direct Purchase