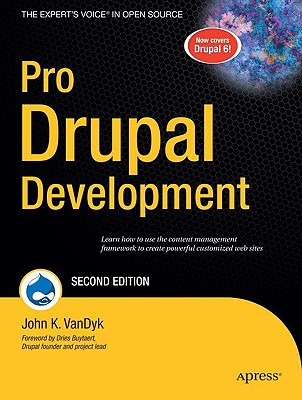 Pro Drupal Development
Paperback

* Individual store prices may vary.
Description
Widely praised for its indepth coverage of Drupal internals, bestselling Pro Drupal Development has been updated for Drupal 6 in this edition, and provides are even more tricks of the trade to help you further yourself as a professional Drupal developer.
Assuming you already know how to install and bring a standard installation online, John K. VanDyk gives you everything else you need to customize your Drupal installation however you see fit. Pro Drupal Development, Second Edition delves deep into Drupal internals, showing you how to take full advantage of its powerful architecture. What you'll learn Find out how to create your own modules, develop your own themes, and produce your own filters. Learn the inner workings of each key part of Drupal, including user management, sessions, the node system, caching, and the various APIs available to you. Discover how to optimize your Drupal installation to perform well under highload situations. Gain the knowledge needed to secure your Drupal installation and other best practice techniques. Learn to integrate Ajax into and internationalize your Drupal web site. Who this book is for
Web developers maintaining and creating sites with Drupal. It is assumed that you already know the basics of Drupal and are able to install and bring up a basic installation. This book takes you deeper into the internals of Drupal and teaches how to tweak and modify it in order to create that perfect web site. Simply put, if you are working with Drupal, you need Pro Drupal Development, Second Edition.
Apress, 9781430209898, 667pp.
Publication Date: August 1, 2008
About the Author
John K. VanDyk has been a Drupal developer since 2004. In 2005, he organized the first Drupal conference in Antwerp, Belgium, with Drupal founder Dries Buytaert. John has contributed several modules to Drupal including the actions, workflow, publish, subscribe, and pubcookie modules and has been instrumental in the design of Drupal's Content Construction Kit. John's day job is as an entomology professor and systems analyst at Iowa State University, where he teaches undergraduate courses about insects. In his spare time, when not hacking on Drupal, John enjoys squash hunting and raising children.
or
Not Currently Available for Direct Purchase