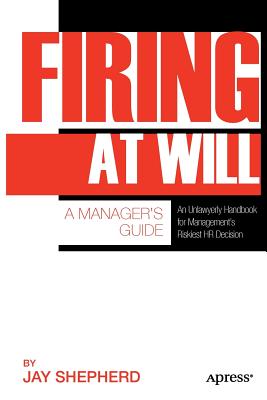 Firing at Will
A Manager's Guide
Paperback

* Individual store prices may vary.
Description
Firing at Will
shows managers and employers how to do the most difficult part of their jobs: firing employees. Written by a leading employment lawyer in a refreshingly unlawyerly style, this guide takes the reader through the always-risky process of letting an employee go. Many employers and managers are afraid to pull the trigger when the employment relationship has broken down, and will postpone the decision by using progressive discipline and performance-improvement plans. However, an employer must be able to unload employees who threaten to undermine the company and its prospects, regardless of the risks involved in a termination. This book explains how to do it, how not to do it, and how to minimize the danger of an expensive employee lawsuit.
No one said being an employer or a manager was easy. Fortunately, knowing how to fire employees will make your job much, much easier in the long run and save you heartache. Firing at Will teaches you what you need to know, without any legalese or boring recitations of statutes and case law. This book is filled with plain-English common sense, based on Jay Shepherd's 17 years of protecting employers in court. The style is conversational and often irreverent, but the lessons and tips are battle-tested. If you want to be a successful manager or employer--and sleep easier--you need to know how to fire at will.
Gives employers and managers real-world advice on how to fire employees
Teaches how to keep your company--and yourself--out of expensive employee lawsuits
Guides you toward building a workplace where you'll need to fire fewer employees
Apress, 9781430237389, 296pp.
Publication Date: December 6, 2011
About the Author
Jay Shepherd is a writer and speaker focused on fixing workplaces so that individuals are free to do their best work. For 17 years, he worked as an employment litigator and adviser helping companies stay out of trouble. Law & Politics magazine named him one of the Top 100 Lawyers in New England. In 2011, he closed his law firm and opened Prefix, LLC, a firm that helps professionals learn how to price their knowledge. Jay writes two award-winning blogs: Gruntled Employees (gruntledemployees.com), his workplace blog, and The Client Revolution (clientrevolution.com), which focuses on reinventing the business of law. Jay is married to the chief human-resources officer of a top Boston law firm, and they have two amazing young daughters who enjoy reading so much that they might even read this book. Eventually. Follow Jay on Twitter at @jayshep.