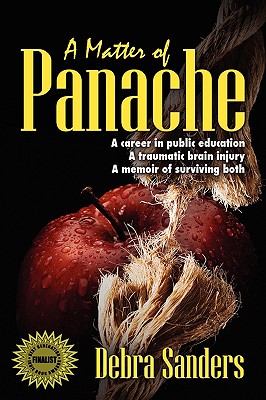 A Matter of Panache
A career in public education. A traumatic brain injury. A memoir of surviving both
Paperback

* Individual store prices may vary.
Description

What Would You Do Suddenly You Were Unable to Think?
School psychologist Debra Sanders doesn't believe anything's wrong after crashing her pickup through the Bluff, Utah, Welcome sign one day in April 2003. After all, she feels no bumps, breaks or even bruises. Then the trouble begins - the difficulty concentrating, poor memory, excessive sleeping. The extreme irritability. And that's just for starters.
Suddenly, someone who has built a brilliant career serving public-school special education students is in desperate need of help herself. What follows is one woman's true story of how she learned to live with a traumatic brain injury - from fighting for competent medical treatment, to understanding and accepting the changes in her personality while attempting to re-establish her professional life.
But A Matter of Panache is more than a personal history. This unique memoir is an adventure story that takes readers to school systems from the remote corners of Alaska to the reservation land of southeastern Utah and onto an Army post in Colorado. Amidst stunning backdrops and in between oft-times hilarious adventures, the reader is provided a rare, first-hand look into the lives of some of the children educated in our schools and into both the triumphs and failures of public education.
As she encounters personal and professional trials that would challenge even the most fully functioning among us, Sanders reveals what her brain injury couldn't take away: the enduring strength of human courage.
Outskirts Press, 9781432728168, 348pp.
Publication Date: August 29, 2008