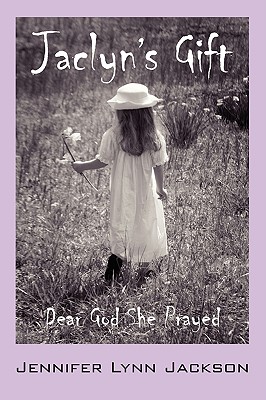 Jaclyn's Gift (Paperback)
Dear God She Prayed
Outskirts Press, 9781432736972, 136pp.
Publication Date: November 19, 2008
* Individual store prices may vary.
Description

She was a fatherless girl, an abused wife, and a panic-stricken young woman. The only way she was going to survive was to accept help from God.
Jaclyn's Gift is the inspiring true story of how God heals His wounded children. Within these deeply personal and profound pages, author Jennifer L. Jackson shares her life's journey and revelations.
Though her early years are rife with troubles, she experiences vivid and sometimes prophetic dreams and visions. No matter how low she falls, always within her is the search for that one special gift she knows God has for her. With His help and guidance, she finally realizes that her purpose in life is to truly help others.
"We are human, and yes, it is hard to let go of some things. But we always find our own way to solve an issue, when we need to just let it go and let God take care of it. He will do it in his own time, and all we have to say is, God, I give you my problem, I cannot do it alone, I cannot carry it around with me because I have no answer. I have tried several things and I am out of options to try. So would you please carry my load and find my solution? Yes, that is the prayer to pray.