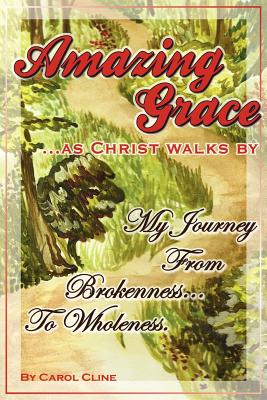 Amazing Grace as Christ Walks by
My Journey from Brokennness to Wholeness
Paperback

* Individual store prices may vary.
Description
A Powerful and Evocative Biography of a Destroyed Woman's Journey to Living In Glorious Freedom
Are you living as a prisoner in your own darkness? You can find your way to live in freedom and have the abundant life Christ died to give us. You can find freedom from whatever keeps you in darkness, ashamed, riddled with guilt from sin, or living in fear.
Read as the author shares her journey from her brokenness from a dysfunctional family life, violent crime, and other life threatening events. After God has saved her from three life threatening events, the author realized that within a year something miraculous and life changing happened to her which became defining moments directing her life.
Walk with her as she walks her journey back to wholeness. With the love of Christ after her, she, through circumstances sent from God, began the long journey from brokenness to wholeness and living within God's will.
Learn the spiritual practices she uses which have shaped her journey and deepened her intimate relationship with Christ. It has been and will continue to be a life long journey growing in the love, knowledge, and service to Jesus Christ.
If you are not free from whatever keeps you in darkness, this book is for you; giving you the knowledge the author has learned to find a way back from brokenness to wholeness.
Read and see the Amazing Grace as Christ Walks By.
Outskirts Press, 9781432769949, 102pp.
Publication Date: July 26, 2011
or
Not Currently Available for Direct Purchase