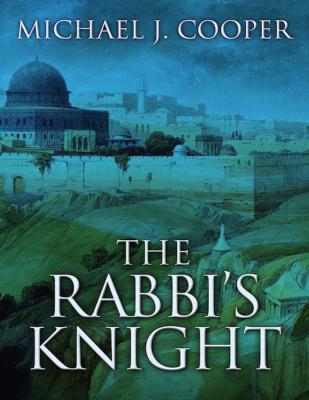 The Rabbi's Knight
Hardcover

* Individual store prices may vary.
Description
War-weary Knight Templar Jonathan St. Clair is garrisoned in the port city of Acre in the year 1290—the twilight of the Crusades. In possession of an ancient scroll with a cryptic inscription, St. Clair becomes more interested in the Jewish mystical practice of Kabbalah than fighting Moslems when he learns that the inscription holds the key to unlock the secrets of Jerusalem's Temple Mount. But no Jewish scholars in Acre can decipher the inscription, and time is running out; Acre will soon come under siege, and the one man able to divine the scroll's meaning, Rabbi Samuel of Baghdad, has been targeted for assassination by a rival rabbi.

St. Clair apprentices himself to Rabbi Samuel and together with Zahira, a beautiful Moslem woman who had been avoiding a local emir by hiding in a leper colony, and with the assistance of al-Hasani, a brilliant Moslem mathematician and cartographer, the knight and rabbi travel to Jerusalem, risking everything to fulfill their shared and sacred destiny as guardians of the Temple Mount.


Five Star Publishing, 9781432831004, 440pp.
Publication Date: August 19, 2015
About the Author
A native of Berkeley, California, Michael Cooper graduated from high school in 1966 and emigrated to Israel. He lived in Jerusalem during the last year the city was divided between Israel and Jordan. He remained in Israel for the next decade, studied at Hebrew University in Jerusalem and graduated from Tel Aviv University Medical School. Now a pediatric cardiologist in Northern California, he returns to Israel and the West Bank twice a year to volunteer his services to children who lack adequate access to care.

His first novel of historical fiction, Foxes in the Vineyard, was grand prize winner of the 2011 Indie Publishing Contest. His second novel, The Rabbi's Knight, was a finalist for the 2014 Chaucer Award for historical fiction. Cooper lives in Northern California. Three adult children occasionally drop by.

or
Not Currently Available for Direct Purchase