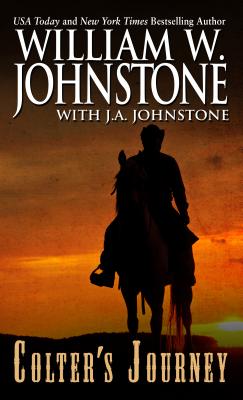 Colter's Journey (Tim Colter Western #1) (Paperback)
Wheeler Publishing Large Print, 9781432845148
Publication Date: November 15, 2017
Other Editions of This Title:
Mass Market (6/27/2017)
Compact Disc (6/27/2017)
Compact Disc (6/27/2017)
MP3 CD (6/27/2017)
* Individual store prices may vary.
Description
THE GREATEST WESTERN WRITERS OF THE 21ST CENTURY In this thrilling epic of the American West, bestselling authors William W. Johnstone and J.A. Johnstone capture the human side of the frontier experience in all its glory, grit, and grandeur--through the eyes of one remarkable teenage boy... Leaving their Pennsylvania home to forge a new life in the untamed Oregon Territory of 1845, the Colter family is ambushed by a kill crazy gang of cutthroats on the Oregon Trail. Fifteen-year-old Tim Colter manages to escape and hide--only to return and find his parents butchered, his sisters Nancy and Margaret missing, and one last killer waiting for his return. Forced to fight for his life, the young Colter embarks on a perilous journey across a lawless frontier, hoping to save his sisters and salvage the dream they lived for. But first, Tim has to figure out how to survive. Luckily, he finds a new friend in Jed Reno, a grizzled one-eyed trapper who's lived in the Rockies since the 1820s--and who was attacked by the same gang that ambushed Tim's family. Together, the mountain man and the greenhorn set out after the marauders, blazing a trail of vengeance that leads them to one of the deadliest men in the territory. With danger at every turn, and death just a heartbeat away, Colter has no choice but to grow up fast--one bullet at a time...
About the Author
William W. Johnstone is the USA Today and New York Times bestselling author of over 300 books, including PREACHER, THE LAST MOUNTAIN MAN, LUKE JENSEN BOUNTY HUNTER, FLINTLOCK, SAVAGE TEXAS, MATT JENSEN, THE LAST MOUNTAIN MAN; THE FAMILY JENSEN, SIDEWINDERS, and SHAWN O'BRIEN TOWN TAMER. His thrillers include Phoenix Rising, Home Invasion, The Blood of Patriots, The Bleeding Edge, and Suicide Mission. Visit his website at www.williamjohnstone.net or by email at dogcia2006@aol.com. Being the all around assistant, typist, researcher, and fact checker to one of the most popular western authors of all time, J.A. Johnstone learned from the master, Uncle William W. Johnstone. He began tutoring J.A. at an early age. After-school hours were often spent retyping manuscripts or researching his massive American Western History library as well as the more modern wars and conflicts. J.A. worked hard--and learned. "Every day with Bill was an adventure story in itself. Bill taught me all he could about the art of storytelling. 'Keep the historical facts accurate, ' he would say. 'Remember the readers, and as your grandfather once told me, I am telling you now: be the best J.A. Johnstone you can be.'"
or
Not Currently Available for Direct Purchase