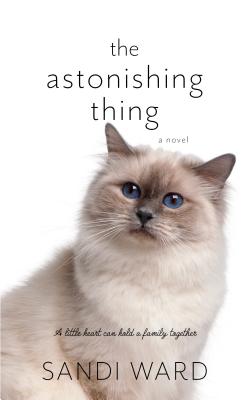 The Astonishing Thing (Paperback)
Large Print Press, 9781432848477, 372pp.
Publication Date: April 18, 2018
Other Editions of This Title:
Paperback (10/31/2017)
Mass Market (4/28/2020)
* Individual store prices may vary.
Description
In her inventive, sometimes bittersweet, ultimately uplifting debut, Sandi Ward draws readers into one extraordinary cat's quest to make sense of her world, illuminating the limits and mysterious depths of love . . .

Pet owners know that a cat's loyalty is not easily earned. Boo, a resourceful young feline with a keen eye and inquiring mind, has nonetheless grown intensely devoted to her human companion, Carrie. Several days ago, Carrie--or Mother, as Boo calls her--suddenly went away, leaving her family, including Boo, in disarray. Carrie's husband, Tommy, is distant and distracted even as he does his best to care for Boo's human siblings, especially baby Finn. Boo worries about who will fill her food dish, and provide a warm lap to nestle into. More pressing still, she's trying to uncover the complicated truth about why Carrie left. Though frequently mystified by human behavior, Boo is sure that Carrie once cared passionately for Tommy and adores her children, even the non-feline ones. But she also sees it may not be enough to make things right. Perhaps only a cat--a wise, observant, very determined cat--can do that . . . Wonderfully tender and insightful, The Astonishing Thing explores the intricacies of marriage and family through an unforgettable perspective at the center of it all. "A beautiful and touching look into the intricacies of marriage and family life, all seen through the loving and unique perspective of the family pet."
--Modern Cat
About the Author
Sandi Ward is a native New Englander who now lives on the Jersey Shore with her husband, kids, dog and a big black cat named Winnie. She was an English major at Tufts and received her MA in Creative Writing from NYU. She is a copywriter at a medical advertising agency. The Astonishing Thing is her first novel. Visit Sandi at www.sandiwardbooks.com, follow her on Twitter at @sandiwardbooks, or find her Facebook author page at www.facebook.com/sandiwardbooks/.
or
Not Currently Available for Direct Purchase