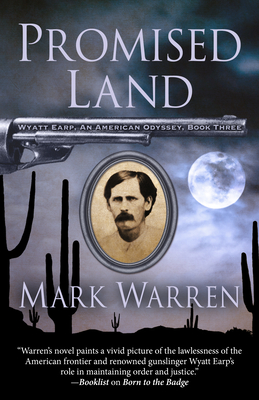 Promised Land (Hardcover)
Five Star Publishing, 9781432857271, 332pp.
Publication Date: October 16, 2019
* Individual store prices may vary.
Description
In Tombstone, Arizona Territory, despite a silver strike promising entrepreneurial opportunities, Wyatt Earp returns to law enforcement, posing a new threat to the Cow-boy rustlers running rampant on both sides of the U.S.-Mexican border. The Earp brothers make as many enemies as they do allies in a deeply divided community. Aspiring to be county sheriff, Wyatt bargains with outlaw informants in his pursuit of three wanted men. When the deal unravels, the Cow-boy traitors fear retribution from their own, planting the seed for the thirty seconds that will ensure Wyatt Earp his place in history-the gunfight that erupts behind the O.K. Corral. What follows-assassination and swift justice-guarantees that Wyatt Earp's name will forever serve as one standard within the debate of law versus order.
Praise For Promised Land…
Review by Victoria Wilcox, author of award-winning trilogy "The Saga of Doc Holliday"
Sticking close to the history, author Mark Warren's Promised Land (the final installment of the historical fiction trilogy Wyatt Earp: An American Odyssey) gives us the Tombstone story from Wyatt's point of view—a challenge, as the laconic Wyatt was famous for not saying much and keeping a poker face that concealed whatever he might be thinking. And respecting the privacy of the man, Warren rarely delivers the kind of long inner monologue than can reveal character.
Yet there are touches of poetry in the writing, as Warren delivers his trademark descriptions of the physical environment—the colors of a desert sunset or the scent of sage blown by a desert wind, which give a visceral sense to the man and his world, a place filled with physical sensation rather than emotional sensibility.
In the end, Promised Land is a simple story of a simple man whose goals are finally achieved, though in ways he didn't plan and would not have wanted.
Wyatt did make a name for himself that would go down in legend and he made some money along the way, but in Tombstone he lost a brother and the life he hoped to find. His so-called Vendetta Ride may have proved his loyalty and provided the revenge in this Odyssey, but Wyatt Earp's promised land remained ever elusive, like the man himself.