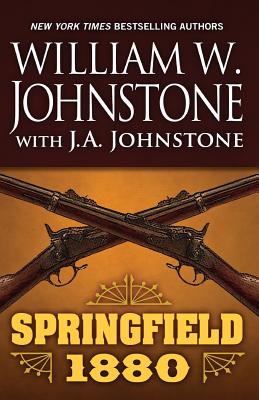 Springfield 1880 (Paperback)
Wheeler Publishing Large Print, 9781432867683, 538pp.
Publication Date: September 11, 2019
Other Editions of This Title:
Mass Market (4/30/2019)
Compact Disc (4/30/2019)
MP3 CD (4/30/2019)
Hardcover (7/31/2018)
* Individual store prices may vary.
Description
JOHNSTONE COUNTRY. WHERE IT'S NEVER QUIET ON THE WESTERN FRONT. Springfield Model 1880. Trapdoor rifle with bayonet. Vengeance optional.

With a handful of murderous rogues, Captain Jed Foster has run off with four wagons containing new Springfield rifles, bayonets, and ammunition meant to resupply the troops at Fort Bowie in Arizona Territory. Foster plans to sell the weapons to the highest bidder--whether it's Apaches, Mexican revolutionaries, or Confederate veterans who still dream of destroying the Union. But that's the least of Foster's problems . . . His junior officer, Lieutenant Grat Holden, is coming after him. With the help of an ornery ex-sergeant known as "Hard Rock" Masterson and fiery guerilla fighter Soledad, the young lieutenant will face off with war chiefs, banditos, and cutthroat outlaws. That's just for starters. Then he's got to take down a man who has enough guns for a small army . . . Live Free. Read Hard.
About the Author
William W. Johnstone is the New York Times and USA Today bestselling author of over 300 books, including the series THE MOUNTAIN MAN; PREACHER, THE FIRST MOUNTAIN MAN; MACCALLISTER; LUKE JENSEN, BOUNTY HUNTER; FLINTLOCK; THOSE JENSEN BOYS; THE FRONTIERSMAN; SAVAGE TEXAS; THE KERRIGANS; and WILL TANNER: DEPUTY U.S. MARSHAL. His thrillers include BLACK FRIDAY, TYRANNY, STAND YOUR GROUND, and THE DOOMSDAY BUNKER. Visit his website at www.williamjohnstone.net or email him at dogcia2006@aol.com. Being the all-around assistant, typist, researcher, and fact checker to one of the most popular western authors of all time, J.A. Johnstone learned from the master, Uncle William W. Johnstone. He began tutoring J.A. at an early age. After-school hours were often spent retyping manuscripts or researching his massive American Western History library as well as the more modern wars and conflicts. J.A. worked hard--and learned. "Every day with Bill was an adventure story in itself. Bill taught me all he could about the art of storytelling. 'Keep the historical facts accurate, ' he would say. 'Remember the readers, and as your grandfather once told me, I am telling you now: be the best J.A. Johnstone you can be.'"