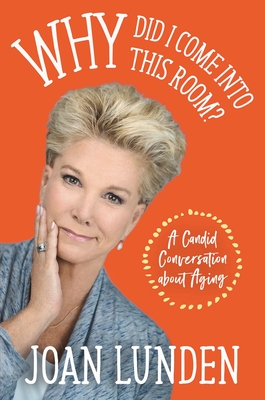 Why Did I Come Into This Room?
A Candid Conversation about Aging
Library Binding

* Individual store prices may vary.
Other Editions of This Title:
Digital Audiobook (3/9/2020)
Hardcover (3/10/2020)
Compact Disc (3/10/2020)
Compact Disc (3/10/2020)
Compact Disc (3/10/2020)
MP3 CD (3/10/2020)
Description
Why Did I Come into This Room? is a funny "What to Expect When You're Expecting" for the aging woman. "I'm too old for Snapchat, but too young for Life Alert." In her most candid and revealing book yet, acclaimed broadcast journalist and Baby Boomer Joan Lunden delves into the various phases of aging that leave many feeling uncomfortable, confused, and on edge. In her hilarious book, Lunden takes the dull and depressing out of aging, replacing it with wit and humor. After all, laughing is better than crying--unless it makes you pee Whether you're in your 40s, 50s, 60s, or more, this book is full of helpful information to embrace--or at least prepare for--the inevitable. Funny, captivating, and raw, no topic is off limits. Lunden goes where others fear to tread, openly talking about wrinkles and age spots (which Lunden insists are sunspots), expanding waistlines (no, you didn't shrink your jeans), diminished energy (my get-up-and-go got up and went), weak pelvic floors (yes, we're talking about leaking), hot flashes (they suck), disrupted sleep (the morning host is an expert on lack of sleep), changes in sex drive (oh yeah, she goes there), ageism (it exists and it pisses us off), and yes, the real reasons we suddenly find ourselves always searching for those car keys Through her poignant and often laugh out loud funny personal experiences, Lunden candidly shares her anxieties and breakthroughs and how she's coping with the realities of aging. She's talking about the good, the bad and the ugly, elevating the conversation on topics often considered "taboo." Why Did I Come into This Room? also explores the science of aging, including how it impacts the body and brain, while dispelling myths and revealing useful options to stave off the aging process as long as possible. Even more importantly, Lunden goes beyond the physical aspects of aging by closely examining the mental and emotional minefields that come with our advancing years. As she explores the value of asking ourselves important questions including, "Am I still relevant?", "Do I have meaningful friendships?", and "Am I leaving an impactful legacy?" Lunden also examines the freedom in "letting go," the importance of managing stress, and how joy and a sense of purpose all play an impactful role in slowing the aging process. In a society where youth is revered and aging feared, Why Did I Come into This Room? is the long-awaited tell-it-like-it-is guide for women of all ages. As Lunden says, "Aging ain't for sissies...you better be prepared.
Thorndike Press Large Print, 9781432878580, 488pp.
Publication Date: December 9, 2020
About the Author
An award-winning journalist, bestselling author, motivational speaker, and women's health & wellness advocate, Joan Lunden has been a trusted voice in American homes for more than 30 years. For nearly two decades, Lunden greeted viewers each morning on Good Morning America bringing insight to the day's top stories. As the longest-running female host ever on early morning television, Lunden reported from 26 countries, covered 5 presidents, 5 Olympics, and kept Americans up to date on how to care for their homes, their families, and their health. As one of America's most recognized and trusted personalities, Lunden has graced the covers of more than 70 magazines and book covers. Through her website JoanLunden.com and her social media, she interacts with women across the country every day on topics from wellness, to survivorship, and aging. Joan's recent titles have included: special correspondent on the TODAY show, host of the CBS series Your Health, sought-after speaker and event host throughout the country, senior caregiving advocate, and, most recently, breast cancer survivor. Lunden documented her battle through cancer treatment and wrote a memoir, Had I Known, reflecting on her life and career. Lunden has served as national spokesperson for various organizations such as The American Heart Association, Mothers Against Drunk Driving, The American Lung Association, The American Red Cross, The American Academy of Pediatrics, and The Colon Cancer Alliance. Joan Lunden's books include Had I Known; Chicken Soup for the Soul: Family Caregiving; Growing Up Healthy: Protecting Your Child from Diseases Now Through Adulthood; Wake-Up Calls; A Bend in the Road is Not the End of the Road; Joan Lunden's Healthy Living; Joan Lunden's Healthy Cooking; Mother's Minutes; Your Newborn Baby; and Good Morning, I'm Joan Lunden. She also hosts the exercise video Workout America.