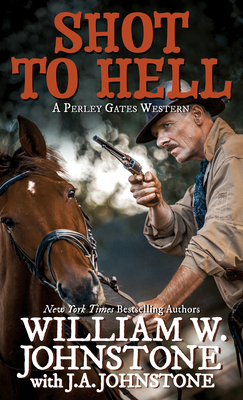 Shot to Hell (Library Binding)
Thorndike Press Large Print, 9781432878979, 431pp.
Publication Date: June 10, 2020
Other Editions of This Title:
Mass Market (1/28/2020)
Compact Disc (1/28/2020)
MP3 CD (1/28/2020)
* Individual store prices may vary.
Description
Johnstone country. Patriots welcome.

The Johnstone hero with the heavenly name--and the hellish task of living up to it--Perley Gates--takes on a gang of cold-blooded killers to save the soul of a small Western town . . . They say that home is where the heart is. And no one knows that better than Perley Gates. After helping the lovely Miss Emma Slocum reunite with her sister's family in Bison Gap, Perley can't wait to rejoin his own kin at the Triple-G Ranch. No sooner does Perley settle in when he receives an alarming telegram from Bison Gap. Emma's brother-in-law has been murdered. Her sister wants justice. And Perley is their only hope to get it . . . Perley can't refuse a family in need. So he saddles up with his salty cowhand Possum Smith and heads to Bison Gap. He notices that the town's new sheriff is acting suspicious--and likely in cahoots with the local gang of deadly outlaws. In no time at all there's a target on Perley's back--and the vicious gang leader is calling all the shots. Justice may be hard to find in a town this wicked. But vengeance is swift--straight out of the Gates . . .

Live Free. Read Hard.
About the Author
William W. Johnstone is the New York Times and USA Today bestselling author of over 300 books, including the series THE MOUNTAIN MAN; PREACHER, THE FIRST MOUNTAIN MAN; MACCALLISTER; LUKE JENSEN, BOUNTY HUNTER; FLINTLOCK; THOSE JENSEN BOYS; THE FRONTIERSMAN; THE LEGEND OF PERLEY GATES, THE CHUCKWAGON TRAIL, FIRESTICK, SAWBONES, and WILL TANNER: DEPUTY U.S. MARSHAL. His thrillers include BLACK FRIDAY, TYRANNY, STAND YOUR GROUND, THE DOOMSDAY BUNKER, and TRIGGER WARNING. Visit his website at www.williamjohnstone.net or email him at dogcia2006@aol.com. Being the all-around assistant, typist, researcher, and fact checker to one of the most popular western authors of all time, J.A. Johnstone learned from the master, Uncle William W. Johnstone. He began tutoring J.A. at an early age. After-school hours were often spent retyping manuscripts or researching his massive American Western History library as well as the more modern wars and conflicts. J.A. worked hard--and learned. "Every day with Bill was an adventure story in itself. Bill taught me all he could about the art of storytelling. 'Keep the historical facts accurate, ' he would say. 'Remember the readers, and as your grandfather once told me, I am telling you now: be the best J.A. Johnstone you can be.'"