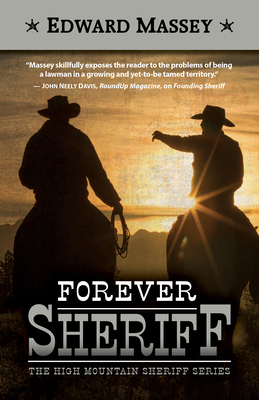 Forever Sheriff
Hardcover

* Individual store prices may vary.
Description
Don't miss the next exciting series entry following FUGITIVE SHERIFF and FOUNDING SHERIFF
From the moment the wounded boy in the wagon interrupts his swearing-in, Deputy Mark Simms, in line to be the third Sheriff Simms of Summit County, devotes his life to pursuing cattle rustlers turned butchers who become murderous meatpackers in the early twentieth century. Eighteen today, the deputy grows as a determined lawman. Tom Hixson, the hired hand who shot the boy, grows as the meatpackers' muscle. The close of World War I ends the monopoly, and the company cleans up Hixson and his mess with a series of accidents. Returning home from a picnic prescribed by his father, his mother hands him the family star. Sheriff Simms pins on his star and rushes his father's funeral to take on the task of leading his county's battle with the Spanish flu. The pioneers die, leaving children with the frontier spirit to handle bad things as they arise. He leads the hardest hit community in the third hardest hit state in the union to a calm and certain victory over the flu. Sheriff Simms does not know how much he never knew about his pa and grandpa, but he will not let them die. They will live forever.
Five Star (ME), 9781432892302, 331pp.
Publication Date: May 18, 2022