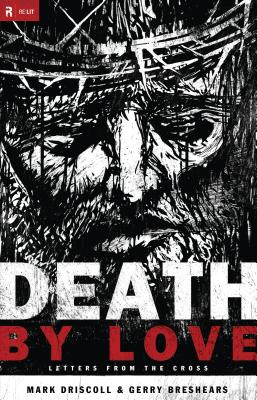 Death by Love: Letters from the Cross (Hardcover)
Letters from the Cross
Crossway Books, 9781433501296, 272pp.
Publication Date: September 12, 2008
* Individual store prices may vary.
or
Not Currently Available for Direct Purchase
Description
Real people. Real sin. Transformed lives. A compilation of heartfelt letters written from a pastor to his people that explains Jesus' work on the cross.
Death by Love is a unique book on the cross of Jesus Christ. While many books debate the finer points of the doctrine of the atonement, what is often lost are the real-life implications of Jesus' death on the cross for those who have sinned and have been sinned against. Written in the form of pastoral letters, Death by Love outlines the twelve primary effects of Jesus' death on the cross and connects each to the life of a different individual.
Driscoll, one of America's most influential pastors, and Breshears, a respected theologian, help readers understand, appreciate, and trust in Jesus' work on the cross in a way that will transform their lives. Both deeply theological and intensely practical, this book shows how everyone can find hope through the death of Jesus Christ.
"This book is brutally honest about sin and suffering, and wonderfully hopeful as it points us to our true Savior."
Timothy S. Lane, Executive Director, Christian Counseling and Educational Foundation
"The stories portrayed in the chapters of this book are all too real, but more importantly, the pastoral responses offer riveting applications of the cross for true and lasting transformation."
Bruce A. Ware, Professor of Christian Theology, The Southern Baptist Theological Seminary
"Practical and powerful. It applies the sufficiency of Jesus to the real-life challenges we face in the church every day. If you work with hurting people you need Death by Love."
Dan Jarrell, Teaching Pastor, ChangePoint Church, Anchorage, Alaska
"A key reason for my confidence in this book is its brilliant presentation of the historic theology of the cross and how it defends reprehensible attacks against it."
Gregg R. Allison, Associate Professor of Christian Theology, The Southern Baptist Theological Seminary
"The authors connect squarely with our ever-changing culture, declaring the central doctrine of Jesus' death and why it is important."
Bill Mounce, President, BiblicalTraining.org.
About the Author
Mark Driscoll is the founding pastor of Mars Hill Church, a multi-site congregation based in Seattle that spans 15 locations in five states. He is the founder of Resurgence (theResurgence.com), co-founder of the Acts 29 Network, and the author of numerous books, including Death by Love and Vintage Jesus. Pastor Mark's sermons reach millions of listeners online, and in 2010 Preaching magazine named him one of the 25 most influential pastors of the past 25 years. Pastor Mark and his wife have five children. Gerry Breshears (PhD, Fuller Theological Seminary) is professor of theology and chairman of the division of biblical and theological studies at Western Seminary. He also serves as an elder and on the preaching team at Grace Community Church in Gresham, Oregon.
Advertisement