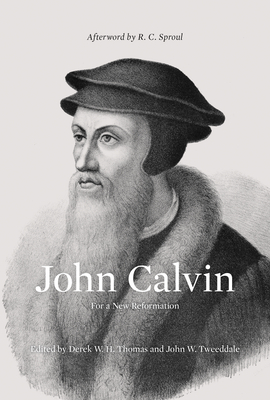 John Calvin (Hardcover)
For a New Reformation
Crossway Books, 9781433512810, 608pp.
Publication Date: November 26, 2019
* Individual store prices may vary.
Description
More than 500 years ago, 16th-century Reformer John Calvin was born--a theologian whose teachings set the stage for reformation of the church around the world. The modern world is in continual need of his Christ-exalting doctrine and vision of the Christian life. In 20 essays by leading Reformed pastors and scholars, this primer explores Calvin's life, teaching, and legacy for a new generation. This book is a clarion call to Christians everywhere to take seriously the ongoing need of theological reformation across the globe.
About the Author
Derek Thomas (PhD, University of Wales, Lampeter) is the Chancellor's Professor of Systematic and Practical Theology at Reformed Theological Seminary and senior minister at First Presbyterian Church (ARP) in Columbia, South Carolina. He is the author of many books, including Calvin's Teaching on Job, and serves as a teaching fellow with Ligonier Ministries.John W. Tweeddale (PhD, University of Edinburgh) is academic dean and professor of theology at Reformation Bible College. He is also a teaching elder in the Presbyterian Church in America. He is the author of John Owen and Hebrews and served as an assistant editor of the Reformation Study Bible.R. C. Sproul (1939-2017) was founder of Ligonier Ministries, an international Christian discipleship organization located near Orlando, Florida. He was also founding pastor of Saint Andrew's Chapel in Sanford, Florida, first president of Reformation Bible College, and executive editor of Tabletalk magazine. His radio program, Renewing Your Mind, is still broadcast daily on hundreds of radio stations around the world and can also be heard online. Sproul contributed dozens of articles to national evangelical publications, spoke at conferences, churches, colleges, and seminaries around the world, and wrote more than one hundred books, including The Holiness of God, Chosen by God, and Everyone's a Theologian. He also served as general editor of the Reformation Study Bible.Michael A. G. Haykin (ThD, University of Toronto) is professor of church history and biblical spirituality at the Southern Baptist Theological Seminary and director of the Andrew Fuller Center for Baptist Studies. He has authored or edited more than twenty-five books, including Rediscovering the Church Fathers: Who They Were and How They Shaped the Church.Stephen J. Nichols (PhD, Westminster Theological Seminary) serves as the president of Reformation Bible College and chief academic officer of Ligonier Ministries. He is an editor of the Theologians on the Christian Life series and also hosts the weekly podcast 5 Minutes in Church History.W. Robert Godfrey (PhD, Stanford University) serves as the president and professor of church history at Westminster Seminary California. Godfrey is a minister in the United Reformed Churches and the author of numerous articles and books.K. Scott Oliphint (PhD, Westminster Theological Seminary) is professor of apologetics and systematic theology at Westminster Theological Seminary in Philadelphia and has written numerous scholarly articles and books, including God With Us. He is also the co-editor of the two-volume Christian Apologetics Past and Present: A Primary Source Reader and Revelation and Reason: New Essays in Reformed Apologetics.J. V. Fesko (PhD, University of Aberdeen, Scotland) is the academic dean and professor of systematic and historical theology at Westminster Seminary California. He was the pastor of Geneva Orthodox Presbyterian Church in Woodstock, Georgia, for ten years. J. V. lives in Escondido, California, with his wife, Anneke, and their three children.Guy Prentiss Waters (PhD, Duke University) is the James M. Baird Jr. Professor of New Testament at Reformed Theological Seminary, and was formerly an associate professor of biblical studies at Belhaven University in Jackson, Mississippi. Guy and his wife, Sarah, have three children.Joel R. Beeke (PhD, Westminster Theological Seminary) has written or coauthored one hundred books, and edited another one hundred titles. He is president and professor of systematic theology and homiletics at Puritan Reformed Theological Seminary, a pastor of the Heritage Reformed Congregation in Grand Rapids, Michigan, as well as the editor of Banner of Sovereign Grace Truth, the editorial director of Reformation Heritage Books, the president of Inheritance Publishers, and vice president of the Dutch Reformed Translation Society.Paul Helm (MA, Worcester College) is a teaching fellow at Regent College in Vancouver. He previously taught philosophy at the University of Liverpool and was was the J. I. Packer Chair of Theology at Regent College. He also publishes online at Helm's Deep. Paul is married to Angela, and they have five children.Robert A. Peterson (PhD, Drew University) is a writer and theologian. He taught for many years at various theological seminaries and has written or edited over thirty books.Cornelis P. Venema (PhD, Princeton Theological Seminary) serves as the president of Mid-America Reformed Seminary, where he also teaches doctrinal studies. He is also an associate pastor of the Redeemer United Reformed Church of Dyer, Indiana, and the co-editor of the Mid-America Journal of Theology. He and his wife, Nancy, have four children and twelve grandchildren.