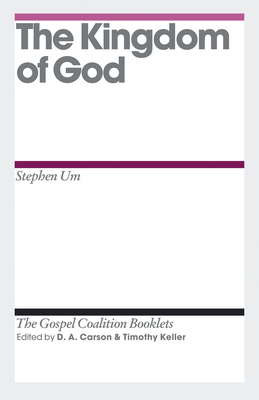 The Kingdom of God (Paperback)
Crossway Books, 9781433528040, 24pp.
Publication Date: August 2, 2011
Description
"Contemporary people have difficulty with authority"--Stephen Um opens his concise explanation of the Bible's teaching on the kingdom of God with these words. This new booklet from the Gospel Coalition is particularly timely in view of the postmodern rejection of authority.
Um explores how the Bible uses the term "kingdom of God" and discusses its relevance and meaning for today. He offers a brief biblical theology of God's kingship as found in the Bible. Christian identity and community are ultimately tied to the kingdom of God, and Um details the implications the kingdom has for Christians. This booklet is a helpful overview of a central theological theme of the Bible.
The Kingdom of God offers a thoughtful explanation for point 10 of the Gospel Coalition's Confessional Statement. The coalition is an evangelical renewal movement dedicated to a Scripture-based reformation of ministry practices.
About the Author
Stephen Um (PhD, University of St. Andrews) serves as the senior minister of Citylife Church in Boston, Massachusetts. He also serves as a council member for the Gospel Coalition. Stephen lives in Boston, Massachusetts, with his wife, Kathleen, and their three daughters. D. A. Carson (PhD, Cambridge University) is research professor of New Testament at Trinity Evangelical Divinity School, where he has taught since 1978. He is a cofounder of the Gospel Coalition and has written or edited nearly 120 books. He and his wife, Joy, have two children and live in the north suburbs of Chicago.Timothy J. Keller is the founding pastor of Redeemer Presbyterian Church in New York. He is the best-selling author of The Prodigal God and The Reason for God.
Advertisement